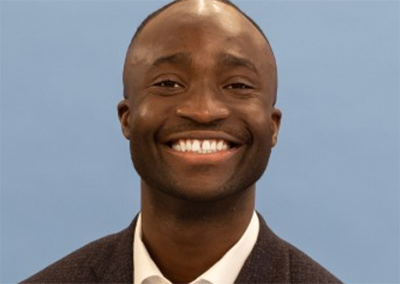 Wemimo Abbey
Co-Founder and Co-CEO, Esusu Financial, Inc.
---
Abbey grew up in the slums of Lagos, Nigeria, and came to the United States when he was 17 years old.  He and his mother struggled to receive a loan without a credit score and borrowed money from a  payday lender at over 400% interest. Years later, that experience inspired Abbey and his co-founder to  start Esusu, a financial technology company that helps low- to moderate-income households use their  on-time rent payments to build credit.
Esusu's platform provides rent reporting, property management analytics, and rental assistance to  unlock financial access and stability for renters and property owners. Most recently, Esusu was valued at  $1 billion in their Series B round of fundraising. 
Although Esusu was founded in 2018, Abbey's journey as an entrepreneur did not begin there. Prior to  Esusu, he created a global social venture which provided affordable access to clean water for over  250,000 people in eight emerging countries. In addition, he founded data analytics company Open Aid  Initiative which was acquired in 2014. Abbey's early career includes roles at Accenture, Goldman Sachs, and PricewaterhouseCoopers (PwC). 
Beyond Esusu, Abbey serves as a Queen's Young Leader and member of the Royal Commonwealth Society. He graduated Magna Cum Laude from the University of Minnesota with a B.S. in Business  Management and earned his M.P.A. from New York University's Robert F. Wagner Graduate School of  Public Service. In 2020, Abbey was recognized on Forbes 30 Under 30 list. In 2021, he was selected by  Goldman Sachs as one of the 100 Most Intriguing Entrepreneurs.