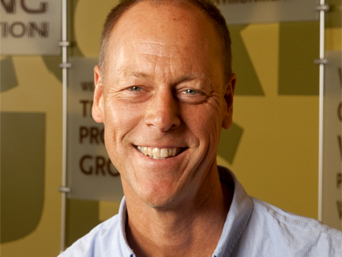 Walter Robb
Co-CEO, Whole Foods
---
Experiences as diverse as organic almond farming outside of Fresno; teaching high school history and politics in post-segregationist Atlanta; devouring inspirational books by Robert Rodale (organic gardening) and E.F. Schumacher (building local economies by linking people, land and community); and attending "Diet for a Small Planet" author-activist Francis Moore Lappé's early Food First meetings (that promoted sustainable production and consumption of affordable, healthy food) set Walter Robb on his long and varied path in the natural foods industry.
"I knew I was in the right church, but I just didn't know which pew…"—Walter Robb
In 1976, Robb begged and borrowed $10,000 to transform an old auto garage in Weaverville, California, into his own natural foods store, Mountain Marketplace. He ran this natural foods store for more than 10 years, gaining business acumen on the job. Robb threw himself into community building there through participation in planning commission meetings and the historical society. He even co-authored a book, Trinity County Historic Sites and formed a utility district to take advantage of the County of origin electricity reserve at the Trinity River Dam, putting the county into the power business.
"I saw first hand how every person contributes to the building of a community."—Walter Robb
After that, Robb moved to the Bay area to manage the Berkeley Living Foods store, and ultimately became the manager for all three of that company's stores.
In 1989, Walter enjoyed a taste of the vendor side of the grocery business when he signed on to market and sell a local brand of organic rice. At this time, Robb gained a wealth of knowledge about the fundamentals of the natural foods business by meeting and selling to every small grocer in and around the San Francisco area.
Three years later, he was ready to return to the business of running stores, this time wanting to build his own. Many of his former Living Foods employees were eager to join him after he secured a lease in Mill Valley, California, and raised half the capital he needed to open the store. At that point, Whole Foods Market had called on Robb twice to join their team.
"I did a lot of soul searching to decide whether I wanted to fly solo or join the group. I am an entrepreneur at heart and like to create and generate. But a big part of growing up is going with the flow of what you have been given."—Walter Robb
In 1989, John Mackey made Robb an offer he could not refuse – build and run the Mill Valley store as a Whole Foods Market. In 1992, Walter opened Whole Foods Market's twelfth store where he was the Store Team Leader for one year before becoming the President of the Northern Pacific Region where he served eight years. Under Robb, the region grew from two to 17 stores, including four acquisitions.
"We set a lot of trends for the company that were adopted elsewhere and put together a terrific group of people who went on to become great leaders in the company. Our aesthetics and core values have remained the same. Combined with a willingness to stretch, the stores are growing organically."—Walter Robb
In 2010, Robb was named co-CEO along with John Mackey at which time he joined the Whole Foods Market Board of Directors. He serves on the Board of Directors for both the Whole Planet Foundation and the Retail Industry Leaders Association. He also serves as Chairman of the Board for Whole Kids Foundation and Whole Cities Foundation.
Robb is an ardent organic advocate; he works his own organic garden and has served on the Board of Directors of the Organic Trade Association and the Organic Center for Education and Promotion.
He graduated Phi Beta Kappa from Stanford University in 1976 and is a proud father and grandfather with two sons, a daughter, and four grandchildren.