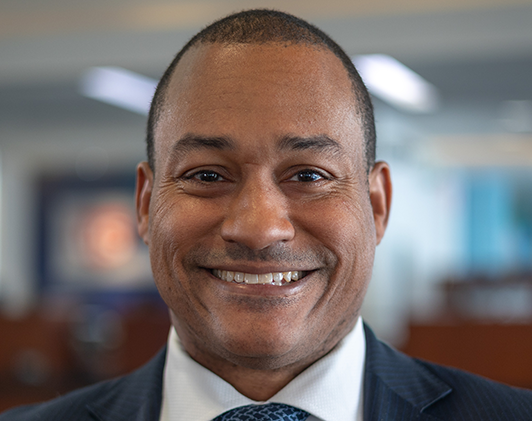 Sekou Kaalund
EVP, Branch and Small Business Banking, U.S. Bank
---
With more than two decades of experience in financial services, Sekou Kaalund knows firsthand the ability financial services institutions have to invest in, influence, and enact meaningful change in communities.
Kaalund joined U.S. Bank in December 2022 as Executive Vice President and Head of Branch and Small Business banking, overseeing the organization's 2,200+ branches across 26 states. The bank's branch and small business presence on the West Coast will expand further in 2023 upon full conversion of its acquisition of MUFG Union Bank. Prior to joining U.S. Bank, he spent the last 15 years at JPMorgan Chase in a variety of staff and line leadership roles across institutional and retail businesses, where he has developed market strategies, managed strategic business transactions, and led complex organizations. Most recently Kaalund was the head of Chase Consumer Banking for the Northeast Division, overseeing $375 billion in deposits and investments.
Kaalund has a strong track record developing talent, forming inclusive teams, and leveraging a vast network to connect people with opportunities all while achieving revenue growth and developing highly profitable client relationships in start-up, turn around, and scale businesses.  As a part of JPMorgan's Corporate and Investment Bank, Kaalund managed some of the largest, complex firmwide relationships with Asset Managers and Hedge Funds. He also was the Americas Head of Sales for Public & Corporate Pensions and joined JPMorgan in 2007 as Global Head of Private Equity Fund Services Business Development.
Kaalund's commitment to impact coupled with his experience building businesses led to his involvement in launching Advancing Black Pathways, the first global corporate initiative that leveraged a data-driven strategic framework to develop scalable programs to reduce the racial wealth gap. The success of this initiative – which included hiring thousands of black students, providing millions of dollars in capital to black businesses, and reaching over one million individuals with financial health content – led to a historic five-year firm-wide $30B commitment to advance racial equity.
Kaalund previously held roles at Citi and at the Federal Reserve Bank of New York, where he was a commissioned bank examiner. His contributions have been recognized by several organizations, including INROADS 2023 Alumni of the Year; Harlem Educational Activities Fund 2023 Gala Honoree; LA Urban League 2023 Corporate Partner Award Recipient; NABA 2022 President's Award for Leadership and Excellence; Ebony Magazine's 2020 Power 100 list, "Titans of Industry"; World of Money 2019 Wall Street Legacy Award. He has been featured in publications, including BBC, Forbes, NBC, CNBC, Black Enterprise, and Essence.