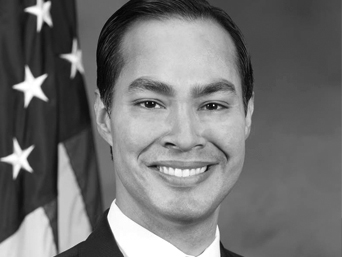 Secretary Julián Castro
Secretary, U.S. Department of Housing
and Urban Development
Julián Castro was sworn in as the 16th Secretary of the U.S. Department of Housing and Urban Development on July 28, 2014. In this role,Castro oversees 8,000 employees and a budget of $46 billion, using a performance-driven approach to achieve the Department's mission of expanding opportunity for all Americans.
"Julián is a proven leader, a champion for safe, affordable housing and strong, sustainable neighborhoods," said President Barack Obama after Castro's confirmation. "I know that together with the dedicated professionals at HUD, Julián will help build on the progress we've made battling back from the Great Recession – rebuilding our housing market, reducing homelessness among veterans, and connecting neighborhoods with good schools and good jobs that help our citizens succeed."
As Secretary, Castro's focus is ensuring that HUD is a transparent, efficient and effective champion for the people it serves. Utilizing an evidence-based management style, he has charged the Department with one goal: giving every person, regardless of their station in life, new opportunities to thrive.
Before HUD, Castro served as Mayor of the City of San Antonio. During his tenure, he became known as a national leader in urban development. In 2010, the City launched the "Decade of Downtown", an initiative to spark investment in San Antonio's center city and older neighborhoods. This effort has attracted $350 million in private sector investment, which will produce more than 2400 housing units by the end of 2014. In addition, San Antonio's East Side is the only neighborhood in America that has received funding to implement major projects under three key Obama Administration revitalization initiatives: Choice Neighborhoods, Promise Neighborhoods and the Byrne Criminal Justice Program.
In March 2010, Castro was named to the World Economic Forum's list of Young Global Leaders. Later that year, Time magazine placed him on its "40 under 40" list of rising stars in American politics.
Previously, Castro served as a member of the San Antonio City Council. He is also an attorney and worked at Akin, Gump, Strauss, Hauer & Feld before starting his own practice.
Secretary Castro received a B.A. from Stanford University in 1996, and a J.D. from Harvard Law School in 2000. He and his wife, Erica, have a daughter, Carina.