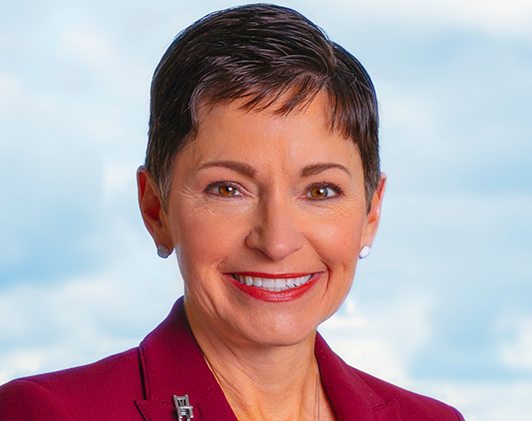 Penny Pennington
Managing Partner, Edward Jones
---
Penny Pennington is the managing partner of Edward Jones, a leading financial services company dedicated to helping its 8 million clients turn their life plans into financial plans. Under her leadership, the firm delivers on its purpose to partner for positive impact, to improve the lives of its clients and colleagues, and together, better its communities and society.
As Edward Jones begins its second century, Pennington, as the firm's sixth managing partner, is guiding Edward Jones through a cultural renewal and strategic transformation that is purpose-driven, leader-led and team-based. The firm's approximately 52,000 associates and nearly 19,000 financial advisors throughout the U.S. and Canada are committed to meeting clients' growing desires and expectations for a trusted advisor who deeply understands their goals and guides them to meet those goals with professional advice that reflects their unique situations. 
With more branch offices in more communities than any other financial services company, Pennington is seeking to lift more people up through three areas of focus: partnering for lasting financial strength, promoting healthier futures, and advancing inclusive growth. One way Edward Jones brings these priorities to life is by promoting financial wellness; through its Financial Fitness program, the firm is committed to educating 1 million learners by the end of 2025. Edward Jones believes that serving more clients in more communities, and helping them achieve more possibilities in their lives, invigorates families and futures for this generation and generations to come.
Pennington began her career with Edward Jones as a financial advisor in 2000 after a 14-year career in banking and was named a principal in 2006. She held various leadership roles in the firm's St. Louis home office before being named managing partner in 2019. She has a bachelor's degree from the University of Virginia and an MBA from Kellogg School of Management at Northwestern University, and she was named No. 69 on the Fortune Most Powerful Women list.
In 2022, Pennington was elected to serve a three-year term as a large-firm governor of the FINRA Board of Governors, which oversees management in the administration of FINRA's affairs and the promotion of FINRA's welfare, objectives and purposes. She is an active member of the St. Louis community, serving on the boards of the Federal Reserve Bank of St. Louis, the Donald Danforth Plant Science Center and the Washington University in St. Louis Board of Trustees.