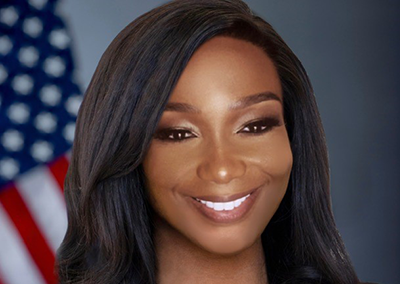 Nikita Pearson
Deputy to the Chairman for External Affairs & Director of the Office of Minority and Women Inclusion (OMWI), FDIC
---
In 1994 Nikita Pearson left the small, rural town of Thomson, Georgia to attend Savannah State University as a first-generation college student.  An encounter with two recruiters from the Federal Deposit Insurance Corporation (FDIC) at the Howard Jordan Building led her to a career with purpose.  While presenting to her accounting class, the recruiters discussed how the FDIC is responsible for making sure that the public has confidence that financial institutions will keep their money safe, treat them fairly, provide them with products and services that help them meet their financial goals, and serve the financial services needs of their communities.  This immediately resonated with Nikita.  She remembered her great-grandmother who carried all the money from her Social Security check in her pocket because she grew up during the Great Depression and did not trust banks.  She remembered when her mother was disrespectfully denied a loan at one of the banks her family members cleaned.  She thought about people from her community that continue to be frustrated by their inability to build wealth because they do not believe the financial system supports their hopes and dreams.  Ever since that day Nikita's career has focused on fostering a safer, fairer, and more inclusive U.S. banking system.
Upon graduating in 1998, Nikita joined the FDIC as an entry-level bank examiner and earned her commission to examine banks for safety and soundness and compliance with applicable laws and regulations.  During her career Nikita held progressively more responsible roles covering bank supervision, information technology, budget, human resources, knowledge management, and internal controls.  She currently serves in two senior executive leadership roles at the FDIC, reporting directly to the Acting Chairman – the agency head. 
In 2021 Nikita was appointed by the FDIC Board of Directors to serve as Deputy to the Chairman for External Affairs.  In this role Nikita advises the Board of Directors, develops strategies regarding all aspects of the FDIC's external outreach, and communicates the mission and goals of the FDIC to the public.  These responsibilities include providing strategic oversight for the Office of Communications and the Office of Ombudsman, a confidential, independent resource for anyone affected by FDIC activities.
Nikita retained her role as Director of the Office of Minority and Women Inclusion, where she completely transformed the FDIC's efforts to promote diversity, equity, inclusion, and accessibility (DEIA) among 6,000 employees in over 80 locations across the country.  She earned the 2022 inaugural DEIA award from the Association of Government Accountants and has been featured in multiple publications for DEIA leadership.  Nikita provides strategic direction for the FDIC's Financial Institution Diversity Program that assesses the diversity policies and practices and provides DEIA technical assistance to approximately 3,200 FDIC-supervised banks with more than $4 trillion in assets.  Her office championed supplier diversity initiatives that resulted in almost 50% of nearly $850 million in FDIC contracts being awarded to minority- and women-owned businesses in 2021.  She also serves as the FDIC's deciding official on discrimination cases.  Nikita testified before the U.S. House Financial Services Diversity and Inclusion Subcommittee to discuss the FDIC's efforts to enhance diversity and promote financial inclusion.  She represents the FDIC on two White House Initiatives on Advancing Educational Equity, Excellence, and Economic Opportunity: (1) Hispanics and (2) Historically Black College and Universities (HBCUs).  Nikita is co-Chair of the Economic Development Cluster for the White House Initiative supporting HBCUs.  In November, the interagency working group released a new tool to connect HBCUs to resources to drive economic development in their communities.
Nikita holds a Bachelor of Business Administration in Accounting from Savannah State University, Savannah, Georgia, where she graduated magna cum laude and joined Alpha Kappa Alpha Sorority, Incorporated.  She also completed the Graduate School of Banking at Louisiana State University, Baton Rouge, Louisiana, and holds an Executive Certificate in Public Leadership from Harvard University, Cambridge, Massachusetts.