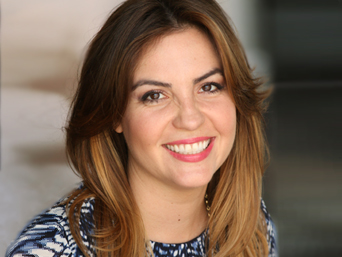 Natalie Byrne
Director of Global Impact, Dermalogica®
---
Currently serving as the Director of Global Impact for Dermalogica®, Natalie Byrne oversees the company's social impact work and ongoing commitment to empower women and support entrepreneurship. Dermalogica®, the number-one professional skin care company sold in over 100 countries, is part of the Unilever family in the Prestige division. As the head of the Dermalogica® Foundation and the FITE (Financial Independence through Entrepreneurship) initiative, she leads efforts to invest in the potential of women. FITE supports women entrepreneurs around the world by providing access to small loans, business resources, education and leadership training.
Natalie is a dynamic voice on women's leadership, mentorship, social impact in business and global development for women's empowerment. Named one of MOGUL's 35 Under 35, Natalie is changing the way businesses look at strategic branding and corporate social responsibility. Passionate about solutions that advance economic development for women and girls, she travels year-round as a speaker to empower and amplify the voices of the next generation of female business leaders and change agents. In 2015, she was honored to be a White House delegate and guest speaker, traveling with President Obama to the Global Entrepreneurs Summit in Kenya. She recently keynoted at the United Nations on the future of innovative leadership to the UNDP's global executive directors in over 50 countries, and has spoken the past three years at SXSW on the intersection of brands and activism.
Under Natalie's direction and in partnership with Kiva, FITE has funded more than 75,000 loans globally and is supporting women to start or grow businesses through tailored training and scholarship programs. In 2016, she designed a program with the White House, where she was a featured speaker for FITE's new online Entrepreneur Accelerator that fills critical business skills gaps to help small, entrepreneurial businesses grow to scale. A member of the Clinton Global Initiative, she stewarded the groundbreaking purpose-driven education coalition across multi-sector industries such as hospitality, fashion, salon, tech and manufacturing. Byrne's expertise in social impact has been frequently sought out by the media, including The Guardian as one of world's leading private sector experts in women-empowered social impact. She was featured for being an innovative beauty executive in "The Guardian Lab's," for at-risk youth programs in "Glamour", "The New York Times" for her award in girls' education, "Elle Magazine South Africa" for supporting girls in Cape Town, as well as the "Irish Tatler", "Career Contessa", "Harvard University's Kennedy School Report," "Mogul", "AOL's 13 Millennials Changing the World for Women," and was named 1 of 100 millennials transforming the world in 2015 by "Levo League." The FITE work has also been featured on broadcast and editorial that includes Bloomberg, MSNBC, Town & Country, Entrepreneur magazine, People magazine, and NPR. Byrne serves on AOL's MAKERS@ Board of Directors.
Passionate about the intersection of business and art for social change, she is launching a collective bringing artists voices to the center of global impact work and has performed spoken word inspired by her work in developing countries to thousands of people. Previously working in film, she was part of the team at Gold Glove Productions and Unison Films that developed 2013 Academy Award-Winning Documentary Short Inocente, the first Oscar-winning film funded through Kickstarter about a homeless, immigrant, teenage girl and her journey as an artist.
Prior to joining Dermalogica®, Ms. Byrne worked at Lifetime Television, A+E Networks, where she helped develop award-winning broadcast and online programming that advocated for issues affecting women and their families. She stewarded the only bi-partisan 2012 Presidential election initiative to amplify women's voices in the political process and as activists.
Natalie began her journey as a writer, poet and journalist working for various news organizations in Pennsylvania as well as overseas for the Irish Times in Dublin. Ms. Byrne graduated with National Honors from Pennsylvania State University with degrees in Communications, Integrative Arts and French. Traveling year-round to inspire activism and generate solutions through business, entrepreneurship and art, she relishes time at home in Los Angeles, where she frequents the stables riding horses.