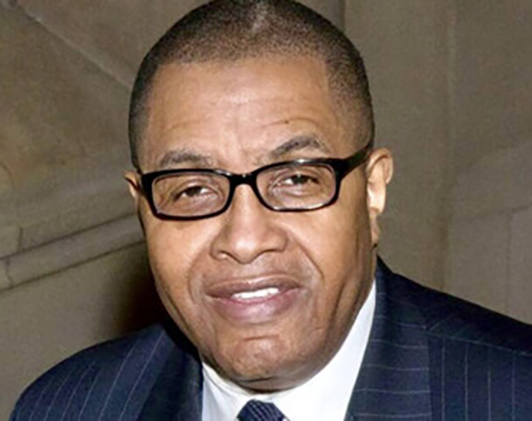 Micheal Cristal
Immediate Past President, Phi Beta Sigma
---
Micheal E. Cristal, was elected the 35th International President of Phi Beta Sigma Fraternity, Inc. on Thursday, July 20, 2017 during the 2017 Conclave in Detroit, Michigan. This notable achievement is the culmination of a 35-year commitment to the fraternity's principles of Brotherhood, Scholarship and Service.
Honoring accountability and dedication is a valued principle instilled in Micheal from a very young age. His professional career and civic engagement has benefitted from these born and bred characteristics.
As a teenager, Micheal's journey began as a bagger at a local grocery store in his hometown of Grenada, Mississippi where he worked to finance his Bachelor of Science Degree in Marketing from Mississippi State University (MSU).
While attending MSU, Micheal became a member of Phi Beta Sigma Fraternity, Inc. through the Theta Iota Chapter on April 3, 1982. With razor intention, Micheal began a fraternal career laced with significant leadership roles including Dean of Pledges/Intake Chairman, Vice President and Chapter President.
After graduation, he would advance his service to the organization by affiliating with the Tau Iota Sigma Chapter in Memphis, Tennessee, where he served as Corresponding Secretary, Director of Social Action and Chapter President and received numerous awards and recognition. His fraternal experience elevated to regional and national levels taking on such offices as Director of Social Action, Vice Director and Southwestern Regional Director, as well as International Director of Social Action, International Director of Bigger and Better Business and International First Vice President.
Micheal is currently the Vice President of Operations for the Kroger Company in Phoenix, AZ, where he's responsible for leading a team of 22,000 employees within 122 Fry's stores in metro Phoenix and Tucson. Micheal has increased sales within the division by championing an improved shopping experience, high level merchandising standards, people development, and accountability of his Team to deliver the desired financial results. Prior to becoming Vice President of Operations, Micheal has held several merchandising and operation leadership positions, including Vice President of Merchandising within our QFC Division in Seattle, WA, Director of Operations within the Atlanta Division leading 4 Districts representing 84 stores in metro Atlanta, Macon, Athens and Columbia, SC and Corporate DrugGM Regional Sales-
Planning Coordinator with the responsibility of developing the
department's Regional Sales-Planning infrastructure. Micheal's career with Kroger has spanned over 32 years and is known and respected for his knowledge of retail systems, ability to establish strong merchandising and operations teams that consistently outperforms the competition.
He is a recognized skilled leader, mentor, trainer, and motivator at division and store level.
Micheal has served on the Board of Directors of the Arkansas Grocers & Retail Merchants Association, Northwest Grocery Association, member of the American Marketing Association, served as Chairman of the Board of Directors of the Memphis Affiliate of The National Urban League, a member of the Board of Directors of the Boys Club of Memphis, served as Vice Chair of the Memphis Area Chamber of Commerce's Capital Campaign, and the United Way Allocation.
Micheal and his wife, Marcia, have three children: Lauren, Brandon and Jaylen.