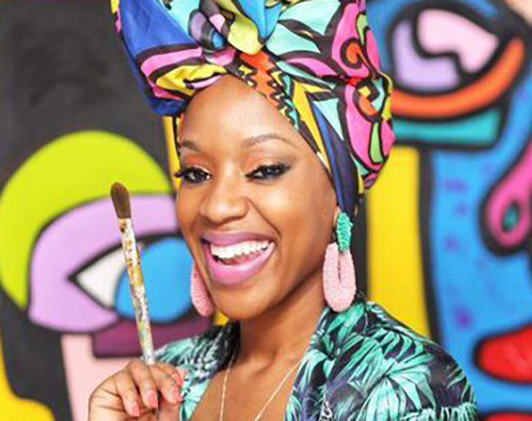 Michell Mitchell
Founder, Abielle Creations
---
Melissa A. Mitchell is a self-taught artist, entrepreneur, author and motivational speaker. Born and raised in Miami, Florida, she has a love for vibrant colors, unique shapes, and bold dark lines that she attributes to her Bahamian heritage, melodic sounds and the colorful world around her.
In 2014, she founded Abeille Creations and began her journey in the world of abstract art. Since then, Melissa has gone on to create over 500 original art pieces, 40 larger than life murals and been featured in Forbes, Vogue, ESSENCE, SHEEN Magazine, Rolling Out Magazine and The Huffington Post, among others. Most notably, she is known for turning her lively artwork into textiles, specifically head wraps named after influential women in her life, seen on the likes of Lupita Nyong'o, Amara La Negra, Yandy Smith, Karen Civil, Rebecca Gross and more. She is also the author of a coffee table book, Views from My Kaleidoscope. 
Her unique artistry has made her a highly sought-after artist with major brands for exclusive collaborations and commissioned artwork. She's been a featured artist and muralist for PepsiCo. during Super Bowl 53, Champs Sports and Nike Ill-ustrated sneaker exhibition during Miami Art Basel, Jack Daniels' Art, Beats and Lyrics showcase and ESSENCE Magazine's 'My City, 4 Ways' tour stop in Atlanta to name a few.
Melissa will continue to propel Abeille Creations forward with her one-of- a kind creative direction and extensive portfolio. Her star continues to shine bright as she is the recent winner of Spanx's Illuminate-Her contest as their newest designer to release the next iteration of the Spanx Illuminate-Her bra collection debuting globally in Spring 2019 and front-runner in Ford Motor Company's "Driving Her Dreams Forward" pitch contest taking home a brand-new car.