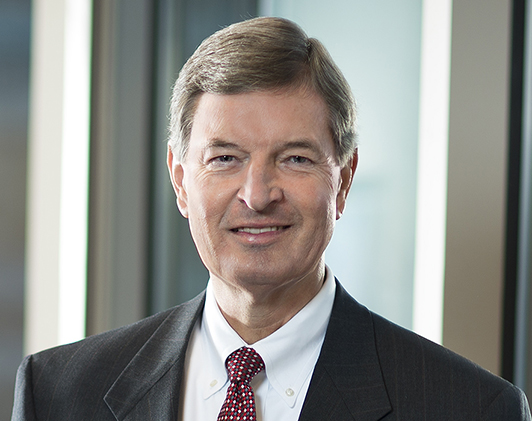 Kelly King
Chairman and CEO, BB&T Corporation
---
Kelly King has forged a lifetime of leadership experience with BB&T, devoting 33 of his 46 years of service to BB&T as a member of the Executive Management Team. As chairman of BB&T since January 2010, he has been president and chief executive officer of BB&T Corporation and chairman and chief executive officer of Branch Banking & Trust Company since January 2009. He also served as chief operating officer of BB&T Corporation and Branch Banking and Trust Company from June 2004 to December 2008 and president of BB&T Corporation from 1996 to June 2004. His career at BB&T has included leadership roles in commercial and retail banking, operations, insurance, corporate financial services, investment services and capital markets.
King is credited with leading BB&T to continued profitability and financial stability through the economic downturn that began in 2008. Under his leadership, BB&T was one of the first institutions to repay TARP funds. His unwavering commitment to the company's vision, mission and values led to the creation of the BB&T Lighthouse Project, an annual employee volunteer program. Since 2009, BB&T associates have donated more than 640,000 volunteer hours to carry out more than 11,000 community service projects, which have touched the lives of more than 16.5 million people. King also established The BB&T Leadership Institute to provide leadership development and consultation to empower corporate executives, business owners, BB&T associates and education leaders to help create dynamic and effective leaders, increase employee retention and improve the bottom line.
American Banker named King 2015 "Banker of the year" for steering the company through an extended period of industry adversity while providing a blueprint for large-scale merger and acquisition activity. SNL Financial listed King as one of the Top 5 Most Influential in the Banking Industry for 2014 and 2015. King was also honored as one of BankInfoSecurity's "Top 10 Influencers in Banking InfoSec" for 2015. In 2016 he was received the Old Hickory Council Distinguished Citizen Award and in 2018 he was inducted into the North Carolina Business Hall of Fame. BB&T is one of FORTUNE's 2019 Most Admired Companies, listed as the top American bank in the 2017 Barron's 500 and ranked by Forbes as the top large bank among America's Best Large Employers in 2017.
King served on the Federal Advisory Council of the Federal Reserve System from 2013 to 2016, and he served as its president in 2016. He also served on the board of the Federal Reserve Bank of Richmond from 2009-2012. King serves on the board of the Financial Services Roundtable and has served on the board of The Clearing House since 2009. He is a board member for BEST NC, a member of the National Leadership Advisory Council for High Point University.
King has served as chairman of the North Carolina Bankers Association board; chairman of the North Carolina Rural Economic Center; chairman of the North Carolina Small Business and Technology Development Center; and chairman of the Forsyth County United Way Tocqueville Leadership Society. As a proud graduate of East Carolina University (ECU), King served as chairman of ECU's Board of Visitors. He is the former chairman of the Board of the Piedmont Triad Partnership and also served as vice-chairman of the American Bankers Council.