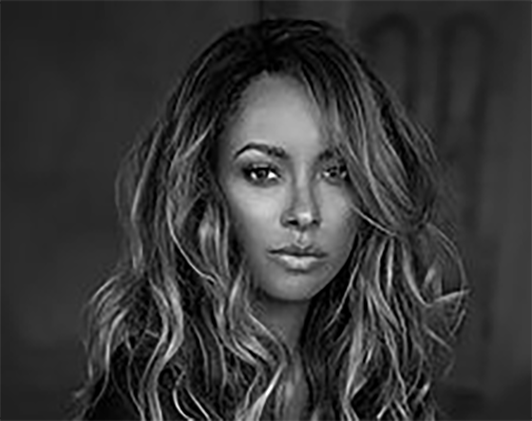 Kat Grahman
Actress, Singer, Dancer and Producer
---
Kat Graham is an actress, singer, dancer and producer. Working across a variety of genres in film, television and music, she is one of most accomplished and versatile young talents working today. 
 
Graham was recently seen in Netflix's "How It Ends" as Samantha. The film, follows a man (Theo James) and his estranged father-in-law's (Forest Whitaker) desperate race to save his pregnant wife, Samantha, after a mysterious apocalypse. Graham made history lending her voice to Nickelodeon's animated television show, "Rise of the Teenage Mutant Ninja Turtles" as the first African-American April O'Neil. Graham can also be seen as the lead in Netflix's film "The Holiday Calendar" with Quincy Brown. 
 
Graham has recently finished filming RZA's "Cut Throat City" starring Terrence Howard, Eiza Gonzalez, Ethan Hawke and Wesley Snipes. The film tells the story of a heist set in New Orleans' lower ninth ward during Hurricane Katrina. She has also completed shooting crime thriller "The Poison Rose" opposite Morgan Freeman and John Travolta. She has also signed on to be in Mark Amin's Civil War film "Emperor" with Dayo Okeniyi, Bruce Dern and James Cromwell.
 
Graham starred as Jada Pinkett in the highly anticipated Tupac Shakur biopic "All Eyez on Me," which Lionsgate released in 2017. She was also featured in Lionsgate's "Where's the Money?" a comedy about a guy who must pledge a fraternity to recover a stash of stolen money.
 
Graham made her television debut in 2002 on Disney Channel's popular teen comedy "Lizzie McGuire." She starred as Bonnie Bennett, considered to be her breakout role, in the CW's "The Vampire Diaries." The show premiered in 2009 and received praise from fans and critics alike. The supernatural drama ran for eight seasons. She also appeared on a number of hit television shows for Disney, Fox, CBS and ABC. Other notable film credits include "17 Again", "The Roommate," "Addicted", and the starring role in "Honey 2."
 
Graham has also produced and sold multiple film and television projects including docu-web series "Breaking the Record" with Disney's Maker Studios. She is set to star in and produce a biopic about iconic Motown singer Tammi Terrell produced with Brad Krevoy.
 
A talented singer and music producer, Graham released her second album, "Love Music, Funk Magic," in 2017 which she worked on with Babyface and Prince. She released her debut EP "Against the Wall" in May 2012 after signing with A&M/Octone/Interscope records, and her first single, "Put Your Graffiti On Me," which was produced by popular Australian production duo Twice as Nice, reached over 7 million views on VEVO and hit #5 on the Billboard Dance Chart. Her debut album "Roxbury Drive," which included her single "Secrets" featuring Babyface, was released in 2015. Graham, who has a degree in recording engineering, produced the 90s-inspired album with Jean-Yves "Jeeve" Ducornet and co-wrote the album with Babyface.
 
A trained dancer, Graham has appeared in music videos for a myriad of artists including Grammy winners Pharrell, Missy Elliot, John Legend, Nelly, Diddy and Usher. She has also performed on tracks with Snoop Dogg and Will.I.Am, and toured with the Black Eyed Peas on their 2007 world tour.
 
Graham has served as the face of many campaigns and endorsements for brands such as Foster Grant, Wet 'N Wild, Degree, Samsung, Avon, Bing, Ford, Aquafina, Abercrombie, Nivea, Armani Exchange and Fanta.
 
Born in Geneva, Switzerland, Graham speaks four languages – English, Spanish, French and Hebrew – and is a strong advocate for human rights in general. Graham is particularly passionate about the plight of refugees worldwide. As such, Graham became a High-Profile Supporter of UNHCR (United Nations High Commissioner of Refugees) in 2013. In 2019, she also became a Goodwill Ambassador for Rotary International, another organization providing key support and services for refugees on the global stage.
In addition to her work with refugees, Graham is a council member for GLAAD (Gay & Lesbian Alliance Against Defamation), as well as a supporter of The Water Project and Empower 54. Her PSA short film for Black Lives Matter landed her an Emmy nomination for best PSA short.