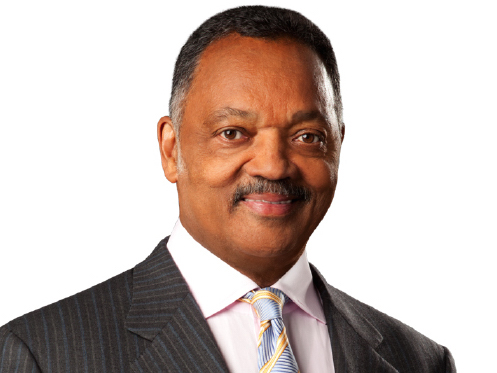 Jesse Jackson
Founder and President, Rainbow PUSH Coalition
---
The Reverend Jesse Louis Jackson, Sr., Founder and President of the Rainbow PUSH Coalition, is one of the foremost civil rights, religious and political figures of our time. For nearly 50 years, he has played a pivotal role in virtually every movement for peace, civil rights, empowerment, gender equality, and economic and social justice the world over. A testament to the breadth and depth of his works can best be expressed by two of the greatest honors he has received. In 2000, President Bill Clinton awarded the nation's highest civilian honor, the Presidential Medal of Freedom, to Reverend Jackson; and, in 2013, the South African government bestowed upon him their highest civilian honor, their National Order, the Companions of OR Tambo.
Reverend Jackson has been called the "Conscience of the Nation" and "the Great Unifier," challenging America to be inclusive and to establish just and humane priorities for the benefit of all. He is known for bringing people together on common ground across lines of race, faith, gender, culture, and class.
In 1965, he became a full-time organizer for the Southern Christian Leadership Conference (SCLC), and was soon, thereafter, appointed by Rev. Dr. Martin Luther King Jr. to direct the Operation Breadbasket program. In December of 1971, Reverend Jackson founded Operation PUSH (People United to Serve Humanity) in Chicago, IL. The goals of Operation PUSH were economic empowerment and expanding educational, business and employment opportunities for the disadvantaged and people of color.
For his work in human and civil rights and nonviolent social change, Reverend Jackson has received more than 40 honorary doctorate degrees and frequently lectures at major colleges and universities including Howard, Yale, Princeton, Morehouse, Harvard.
In 1984, Reverend Jackson founded the National Rainbow Coalition, a social justice organization based in Washington, D.C devoted to political empowerment, education and changing public policy. In September of 1996, the Rainbow Coalition and Operation PUSH merged to form the Rainbow PUSH Coalition to continue the work of both organizations and to maximize resources.
Reverend Jackson's two presidential campaigns broke new ground in U.S. politics. His 1984 campaign registered over one million new voters, won 3.5 million votes, and helped the Democratic Party regain control of the Senate in 1986. His 1988 campaign registered over two million new voters, won seven million votes, and helped boost hundreds of state and local elected officials into office. Additionally, he won historic victories, coming in first or second in 46 out of 54 primary contests. His clear progressive agenda and his ability to build an unprecedented coalition inspired millions to join the political process.
Reverend Jackson married his college sweetheart Jacqueline Lavinia Brown in 1962. They have five children: Santita Jackson, former U.S. Congressman Jesse L. Jackson, Jr., Jonathan Luther Jackson, Yusef DuBois Jackson, Esq., and Jacqueline Lavinia Jackson, Jr.