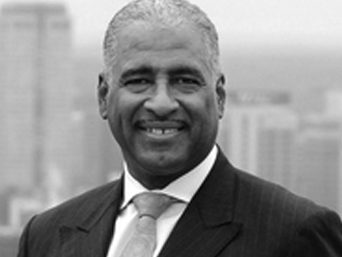 Honorable William Bell
Mayor,
City of Birmingham, Alabama
---
Mayor William A. Bell, Sr. is one of the most dynamic, effective and respected public servants in Birmingham, Alabama, having served the City of Birmingham as City Councilor and Council President for over twenty-five years. Mayor Bell was elected to a full term as Mayor of Birmingham, the largest city in the state of Alabama, in 2011. He was re-elected Mayor again in 2013. In 1985 during his third term on the Council, he was elected to serve as the first African-American President of the Birmingham City Council. He was again chosen as President following the Birmingham City Council elections in 1987 and 1997. While serving as President, he was instrumental in implementing the consent agenda and designing the new council chamber which other local governments modeled and integrated into their city's plans.
In 1988, Dr. Bell pushed through funding for Child Care Resources, Incorporated. This service provided assistance for poor and working mothers who needed decent and affordable childcare.
Dr. Bell also worked with the Merchants of the Fourth Avenue Business District to transform that area into a productive business corridor so that blacks could purchase their own building where they worked each day. He also assisted in funding capital improvement projects for the YWCA and the YMCA.
As Chairman of the Finance and Administration Committee, he was responsible for various revitalization projects in neighborhoods such as the Norwood Community Program that received national recognition for its model neighborhood concept. Druid Hills, Avondale, Woodlawn, Five Points South, and Fountain Heights have also benefited from Dr. Bell's efforts to revitalize communities and provide more green space for families to enjoy.
During his tenure, he meets with the corporate leaders of the Birmingham Banking and Financial Industry to push for more women and minorities to serve on boards and be promoted to administrative positions. When Mayor Bell became the interim Mayor, the city of Birmingham received over twenty-five millions dollars in federal funding from the Department of Housing and Urban Development for the Hope VI Project downtown that transformed local inner city projects into decent, affordable, mixed housing communities where citizens could live and thrive.
Mayor Bell was also instrumental in getting new libraries for the Downtown, Smithfield, Pratt, and the Southside areas, as well as refurbishing Graymont School into an educational center for the Jefferson County Committee on Economic Opportunity that houses the Head Start program and serves as a meeting place for various community groups. In addition, he generated funds for the McWane Science Center downtown, Vulcan Park and Museum renovation, and brought the Southwest Athletic Conference to Birmingham during his tenure as Interim Mayor.
Mayor Bell also sought funding for building homes, parks, recreational and senior citizen's centers in the neighborhoods he served. He assisted in funding a fitness track around Legion Field as well as a mini park. He was also responsible for the transformation of the Bruno-Smithfield Center that houses a free first-class fitness center and savings bank for his district. He also raised funds to build a basketball court for residents on the outer perimeter of Marconi Park.
While serving on the Jefferson County Commission Commissioner, Bell saved jobs at Cooper-Green Mercy Hospital and the Ketona Senior Living Facility. While he was a Commissioner for Health and Human Services, he created a program for families of cancer hospice patients at the hospital.
Mayor Bell is responsible for the upcoming transportation facility that will be built downtown, the multi-use Birmingham Intermodal Transit Facility. Since becoming the thirty-third Mayor of the largest city in Alabama, Mayor Bell has transformed Birmingham by bringing back the Birmingham Barons baseball team, implementing various projects including a new Regions Field baseball facility, the Negro League Baseball Museum, Railroad Park, the Birmingham Crossplex, an international multi-use sports complex, the Uptown district including a four-start Westin Hotel with various shops and restaurants, expansion of the Summit shopping center, Grandview Hospital on 280, Barber Motorsports Facility, and is responsible for the revitalization and refurbishing of various neighborhood parks and recreational centers throughout the city. He is also responsible for Birmingham being named an the All-America City Award., He has done more than any other Mayor to make a cleaner and safer Birmingham by working with state legislators on the Land Bank Bill to eliminate abandoned houses and overgrown lots.
Mayor Bell is also creating educational, and career related opportunities for the younger generation. He has also worked closely with the Birmingham Board of Education, and formed partnerships with local colleges and universities to ensure than all of our children are college and career ready. Our senior citizens feel safer because crime has been significantly reduced during his tenure as Mayor. He is constantly striving to enhance the quality of life for not only our senior citizens but those who are less fortunate as well.
He has worked incessantly to rebuild the Pratt City community which was ravaged by the tornado of April, 2011. Utilizing fourteen million dollars in federal funding from HUD, Mayor Bell revitalized the Pratt city community by building senior living facilities, the Pratt City fire station, a community tornado shelter, and library. Coupled with the assistance of the American Institute of Architects (AIA) and the city's first updated Master Comprehensive Plan developed in over 50 years, the Pratt community has seen unprecedented recovery and rebuilding under Mayor Bell's leadership. A new United States Treasury building was also constructed using thirty millions dollars from the United States Housing and Urban Development Department.
The City of Birmingham also works closely with Casey Family Programs and has been recently designated as a Community of Hope and is working to develop strategies and programs to help address neglect, abuse and crime across the City of Birmingham. To address the city's areas of food insecurities, the City of Birmingham competed with hundreds of other cities around the worked for the highly coveted IBM 2014 Smarter Cities Challenge Grants valued at $500K. Mayor Bell and the City of Birmingham were successful in being chosen as one of 16 cities (one of only four in USA) and are currently planning to unveil mobile food markets to underserved areas in the city.
Dr. Bell's vision of a better school system in Birmingham led him to become the architect of the Bell Capital Improvement Education Plan that provided over one hundred-ninety million dollars to renovate, restructure and build new schools such as Martha Gaskins Elementary School. George Washington Carver High School was the first high school built in over thirty years with this funding. Other high schools include Jackson-Olin, Wenonah, Parker and Huffman High. The University of Alabama at Birmingham also received over 87 million dollars for capital improvement projects under Dr. Bell's tenure.
Dr. Bell has lectured on workplace diversity issues for both public institutions and private corporations. Through his past membership with the American Committee on South Africa, he worked to get the City to pass legislation condemning apartheid in South Africa. He has traveled to the Czech Republic, Paris, France, Israel, London, England and Rome, Italy to speak to its citizens about the role that Birmingham played with Dr. Martin Luther King and the human rights movement.
Mayor Bell is carrying the Birmingham story of resilience, reconciliation and transformation throughout the world by partnering with the United Nations Education, Science, Culture Organization (UNESCO) to have the city of Birmingham designated as a World Heritage Historic Site. A designation that will not only bring great international honor to Birmingham, but will also bring millions of dollars in international tourism from visitors who want to learn more about Birmingham's rich civil and human rights history, Dr. Bell has also represented the United States at the United Nations Committee on Human Rights in Geneva, Switzerland to speak about Birmingham's role in bringing dignity and honor to all people no matter their race, religious, sex, or religion. Mayor Bell is a leader who speaks in various countries about how the city of Birmingham changed the world.
Dr. Bell is a member of Our Lady of Fatima Catholic Church, Founder and Past President of 100 Black Men, member of Kappa Alpha Psi, Incorporated Fraternity, Rotary Club, Leadership Birmingham, Leadership Alabama, Operation New Birmingham, First Tee Program, as well as other boards and agencies too numerous to mention. He also received the Boy Scouts of America Silver Beaver Award for recruiting inner city youth, was named Government Person of the Year by the National Business League and was voted one of the Ten Most Influential Leaders in Birmingham.
Mayor Bell was recently elected to serve as the President of the African American Mayors Association (AAMA) and recently traveled to Ferguson, MO to meet with other leaders regarding recent violence and lend his experience and guidance as a child of the civil rights movement in Birmingham and now Mayor of the same city. Mayor Bell also co-chairs the United States Conference of Mayors Committee on Human Rights. He is also the Co-Chair of the United States Conference of Mayors' and President Obama's Initiative "My Brothers Keeper".
Mayor Bell is a graduate of John Carroll High School and the University of Alabama at Birmingham where he received his Master's Degree in Psychology and Guidance and Counseling. He also received his Doctorate in Jurisprudence from Miles College. Dr. Bell has served as a probation officer in Family Court, sales consultant with the Xerox Corporation and Special Assistant to the Vice-President at UAB.
Mayor Bell is married to Dr. Sharon C. Bell, an administrator with the Birmingham City School System, and has two children and two grandsons. Judge William Anthony (Tony) Bell, Jr., a graduate Ramsay High School and The University of Alabama, is a Municipal Judge and attorney who maintains a private practice in Birmingham. He is married to Dr. Emily M. Bell, who is an Obstetrician/Gynecologist at Princeton Baptist Hospital. They are the proud parents of William Anthony (Trey) Bell, III and Ethan Melton Bell. Mayor Bell's daughter Jillian, is also a graduate of Ramsay High School and the University of Alabama. She received her Master's Degree in Environmental Science from Antioch College and world traveler. They are proud of their loving husband and father, and grandfather for his dedication to progressive service, dynamic leadership, and an unwavering commitment to building a better city by moving forward with a vision of hope toward the future. On August 27, 2013, the citizens of Birmingham overwhelmingly voted to re-elect William A. Bell, Sr. as their Mayor for the next four years.
In commemoration of the 50th Anniversary of the Civil Rights Movement, on August 28, 2013, Mayor Bell represented the City of Birmingham, Alabama at the Lincoln Memorial in Washington, D.C. and rang the church bell from the Sixteenth Street Baptist Church in honor of the four little girls who were killed.