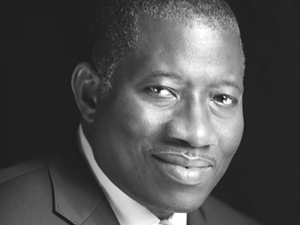 Goodluck Ebele Jonathan
President, Federal Republic of Nigeria (2010-2015)
---
Goodluck Ebele Jonathan, president, Federal Republic of Nigeria, 2010-2015, was born in Otuoke, Bayelsa State on November 20, 1957, he attended St. Stephens and St. Michaels Primary Schools in Otuoke and Oloibiri respectively, and then Mater Dei High School at Imiringi for his post primary education. Both his primary and secondary schools were established by the missionaries in the rural Niger Delta region of Nigeria. He earned his Bachelor's, Master's and Doctorate degrees in Zoology, Hydrobiology and Fisheries Biology from the University of Port Harcourt, Nigeria.
Before joining politics, President Jonathan served as a Science Inspector of Education, a lecturer, and later as an Assistant Director in the Directorate of Environmental Protection and Pollution Control in the defunct Oil Mineral Producing Areas Development Commission (now Niger Delta Development Commission).
President Jonathan's active political career began in 1998 when he was first elected Deputy Governor of Bayelsa State and he served in that capacity from 1999-2005, where his innate traits of humility, service and loyalty were first publicly noticed. He thereafter became the acting, and later the substantive Governor of Bayelsa State from 2005-2007.
Goodluck Jonathan was elected Vice President of the Federal Republic of Nigeria in 2007, a position he held till 2010 when he became acting President and later president on the demise of the then President Shehu Musa Yar'Adua, whom he loyally served during his life time as the President.
As Vice President, and being from the Niger Delta region, President Jonathan worked with the late President Yar'Adua for a road map solution that saw the acclaimed Niger Delta Amnesty Program, which brought peace and stability to the region.
As President, Goodluck Jonathan made a commitment to change the global negative perceptions of the Nigerian elections; to make them non-violent, free, fair and credible. He therefore set-out, piloted, contested and won, as duly elected president in 2011. He pursued a transformational agenda with unusual vigor, leading the implementation of projects and policies targeted at promoting development across different areas. Under his watch, Nigeria experienced unprecedented economic growth and became the largest economy in Africa. He promoted democratic values and principles, peace and national security.
President Jonathan has received several local and international awards in recognition of his exceptional public service. Dr Goodluck Jonathan is totally committed to democracy, credible elections, peace and respect for the rule of law in Africa.
President Jonathan's enduring commitment to peace is reflected in his recent decision in the midst of a very tense political climate following the 2015 Presidential Elections, he placed his country's unity and freedom above his own personal interest and allow Nigeria and Nigerians to witness the peaceful transfer of powers from democratically elected president to another from the opposing party, for the first time in the nation's history. An uncommon selfless act in African politics, which substantiates one of President Jonathan's most popular statements: "my political ambition is not worth the blood of anyone".
President Jonathan is married to Dame Patience Goodluck Jonathan and their union is blessed with children.