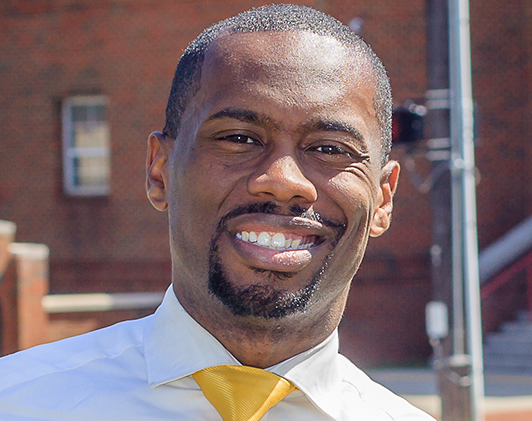 Dr. DeAndre S. Pickett
Executive Director/CEO, 4 Brighter Futures Foundation, Inc.
---
Though not a native Atlantan, De'Andre has worked tirelessly for the last 12 years to advocate for the families and children within his community. De'Andre is a proud alumnus of Benjamin E. Mays High School and went on to study English, Sociology and African American Studies at Morehouse College.
Morehouse is also where he gained his love for education. Serving as a class assistant to his professor, volunteering at local schools and participating in summer programs like Breakthrough Atlanta, teaching was the occupation of choice.
Since 2006, De'Andre has served in many educational capacities from Educational Specialist and Dean of Students to recently having served as the Academic Affairs Director for Literacy Action, the oldest, largest, and leading adult basic education nonprofit in the Southeastern United States. in this role, De'Andre continues to advocate for families across the Metro-Atlanta and South DeKalb communities by assisting with GED preparation, reading and writing skills, and finding additional resources to succeed. Through his experience in the classroom, De'Andre works hard to correlate what is happening to our low-performing students and the household they come from.
De'Andre's community ties continue run deep within organizations that are building educational improvements and financial stability. Serving as the Educational Attainment and Community Relations Director for the South Fulton Business Coalition, De'Andre's diverse background in
community relationship building along with his experience in education, makes De'Andre a key asset to the Business Coalition and other community partnerships and relationships.
He continues to serve in many capacities that enrich the quality of life for the families in our communities. In 2013, De'Andre was appointed as a Commissioner and Chairman of the City of East Point Parks and Recreation Advisory Commission. In 2015, De'Andre initiated PARC:360, an initiative that engages families, elected officials, and community stakeholders to invest in the city's Parks and Recreation Center, creates new programs that will enhance student learning and assist families with resources that will help find jobs, provide G.E.D courses and trade school opportunities, and promotes athletics and fitness for youth throughout the city.
Now serving as the President and CEO of the Governing Board for The Main Street Academy, Inc., a Charter School within the Fulton County School District, De'Andre advocates for over 900 students and 75 staff members through ensuring fiscal health for the school and academic standards are being met. De'Andre has also served as the first Vice-President to be elected to the board back in 2016 while also serving as the Chair of the Academic & School Performance Committee.
De'Andre continues to coach is award-winning basketball team, the Southside Bulldogs, now in their third season and returning as two-time District Champs. De'Andre gets invited regularly to provide lectures and professional development trainings throughout the country and continues to secure his spot as a trailblazer, blazing the paths of young men and women to follow.