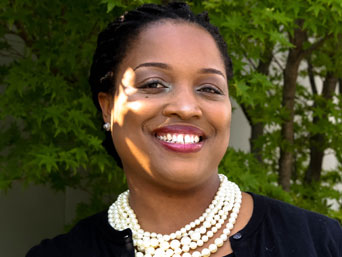 Careshia Moore, Esq.
VP of Programs and Partnerships, Usher's New Look
---
Careshia Moore is the VP of Programs and Partnerships of Usher's New Look where she oversees all program development and implementation in all of the organization's markets. Her role includes ensuring that curriculum for all of New Look's programs are research based, align with appropriate standards and equip youth participants to become global leaders with 21st Century skills. She also trains program staff on best practices of implementation of the curriculum, and develops strategic partnerships with school districts and community organizations throughout the U.S. She began her tenure with Usher's New Look in September of 2012 and has been an integral part of its growth since that time.
Formerly, Careshia worked as a practicing attorney in Florida and Georgia. While practicing law, she maintained her passion for improving the lives of youth by mentoring and becoming a member of Communities in Schools Board of Directors (Henry County), the Henry County Education and Economics Task Force, United Way Investment Committee (Education) and various other education initiatives. She has lent her expertise in curriculum and positive youth development to various non-profits and government agencies.
Prior to her role in program administration, Careshia gained first-hand experience with youth as an educator. While teaching in Southwest Florida, she quickly realized that providing youth with enriching experiences and opportunities are as important as the academic instruction they receive. Her observation of the educational disparities among underserved youth was the catalyst for the work in which she is currently engaged and propels her to continue to seek out innovative strategies to equip youth to compete to succeed.
Careshia earned a Bachelor's and Master of Education and Juris Doctor from the University of Florida in Gainesville Florida. She is married and the mother of two children.