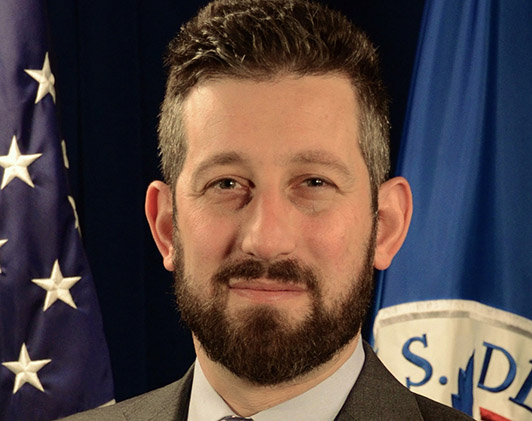 Aaron Levy
Director of Individual and Community Preparedness Division (ICPD), FEMA
---
Aaron Levy is the Director of FEMA's Individual and Community Preparedness Division (ICPD) where he leads the Agency's efforts to help people prepare for disasters. Aaron oversees programs that partner at all levels of government, the private sector, and community organizations to increase citizen and community preparedness and encourage the development of disaster resilience across the Nation.
Prior to joining ICPD, Aaron served as the Executive Officer (XO) of FEMA's National Preparedness Directorate (NPD). As XO, Aaron served as the de-facto chief operating officer of a business line consisting of 400 full time employees, across three geographical locations with an annual budget of $400 million. He provided counsel to NPD's Assistant and Deputy Assistant Administrators on the directorate's strategic, budgetary and operational priorities while managing the staff of the Office of the Assistant Administrator. From January-April 2021, Aaron served on a temporary assignment as Senior Advisor to the Acting FEMA Administrator where he provided executive counsel on the whole of government efforts to provide COVID-19 vaccinations to the American people.
Aaron graduated from Richmond, The American International University in London with a Bachelor of Arts in International Relations and subsequently received his Master of Arts in Global Security Studies from Johns Hopkins University. Aaron also completed the Executive Leaders Program at the Naval Post Graduate School's Center for Homeland Defense and Security. A native of New Jersey and lifelong New York Giants fan, Aaron resides in Washington, D.C. with his wife Katie and their amazing daughter Carolyn.