Thank you for joining us as a Session Leader!
Please review the Session Leader Orientation video prior to your session at HOPE Global Forums:
 The HOPE Global Forums are a community of events that serve as a call to action: to inspire innovation and thought leadership towards an inclusive global economy that works for everyone. With over 4,800 delegates from 60 countries, our Annual Meeting is now the largest and most prestigious gathering in the world on behalf of empowering the poor.
As a Session Leader, you are a qualified and experienced industry expert, tapped to facilitate a 30-minute table conversation around the topic area of your assigned Idea Lab session. You are key to facilitating input on the issues, sharing successful strategies and structuring recommendations and partnerships.
As a Session Leader, you will have the opportunity to engage in authentic dialogue with passionate, open-minded peers who believe in the power of ideas to change the world. You'll have the opportunity to test your ideas for the future, and you'll be challenged to positively impact your community and empower those around you in new ways.
Please complete your registration using the button below so that we can create your HGF credentials.
DISCOUNT CODE = HGF22WGSL
Questions? Email Michael Cubbage at mcubbage@qandaevents.com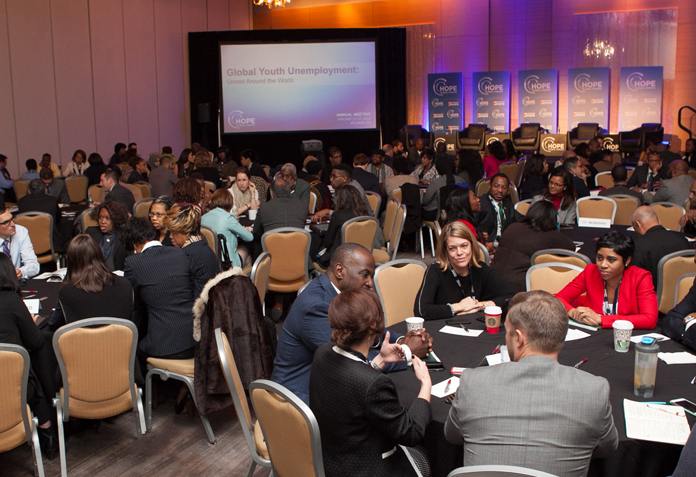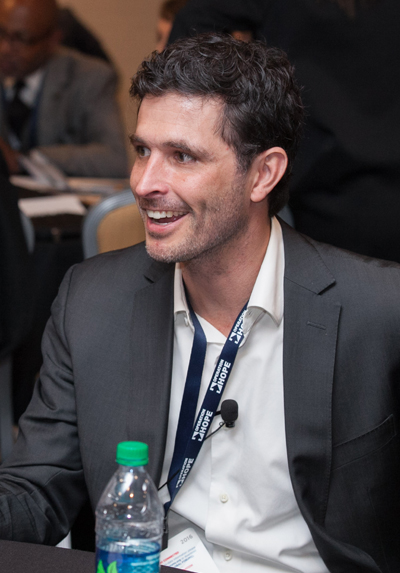 Monday, December 12
(After lunch session)
Rebooting the American Dream: The Future of Social Mobility
The core premise of the American Dream is that we live in a place of unlimited opportunity: where everyone who works hard and plays by the rules has a fair shot at making something for themselves and their families, and where each generation of children can do better than their parents.
For decades, the majority of Americans have been able to climb the economic ladder by earning higher incomes than their parents, having access to higher education, being able to own their own home or business, the ability to create a portfolio of investments – all of which supported intergenerational wealth creation. These improving conditions became known as upward mobility, and constitute the essence of the American Dream.
Yet, successive generations are finding it harder to make the ascent, along with historically marginalized groups who have never had an on-ramp to participating in this vision of America. Data continues to show it is becoming harder to achieve this dream, with stagnating wages and income inequality just two of the factors behind this. Most importantly, fewer and fewer people in the lower- and middle-classes are climbing the economic ladder.
Does the American Dream still exist, and can it exist for everyone? How can we solve the shortage of, and lack of access to, affordable housing? Is higher education still a good investment? How can we democratize investing as a means of wealth creation? Can entrepreneurship and small business ownership become a viable option for greater numbers of people? How can we ensure that everyone has access to opportunity, regardless of demography?
Next-Gen Innovations: Driving Financial Inclusion
Digital technology is transforming the financial industry, changing the way payments, savings, borrowing, and investment services are provided and who provides them. Fintech and Big Tech companies now compete with banks and other incumbents across a range of markets. Meanwhile, digital currencies promise to transform the heart of finance: money itself.
But just how much has technology advanced financial inclusion? Throughout the pandemic, digital finance helped households and businesses meet the challenges posed by the economic shutdown. It also provided governments new ways of reaching those who need support.
Innovative finance is a set of financial solutions that create scalable and effective ways of channeling both private money and public resources towards solving pressing global problems. This serves two purposes: first, innovative financing is a complementary source of capital to development aid; and second, innovative financing is more effective and efficient by linking financing to results, redistributing risk, improving access to capital, and leveraging technology.
What does all this mean for marginalized communities? What innovative financial tools can help close the gap for Black and Latino individuals and families? How can women and minority-owned businesses benefit? What needs are not currently being addressed?
Underestimated and Underrepresented: Investing in the Inclusive Economy
The perceived tension between inclusion and growth—and the belief that they should be addressed separately—has hampered efforts to pursue and achieve inclusive growth. But in reality, insufficient economic inclusion is a threat to prosperity. It is difficult to improve social mobility and expand economic opportunity without increasing the overall size of the economy.
Up to 40% of GDP growth in the U.S. economy between 1960 and 2010 can be attributed to greater participation of women and people of color in the labor. Economies grow faster and more vigorously—and for longer periods—when prosperity is more equally distributed across segments of the population.
Inclusive growth is both process and outcome: it is about aligning how growth is achieved (or how people access opportunity) with the ultimate outcome of broad, shared prosperity – that is, decent standards of living and overall wellbeing that increase with economic growth.
What can leaders do to support broader participation in the economy? Where will the economic opportunity be in the next 10-20 years? How can underrepresented individuals and communities participate? Can greater financial wellbeing improve overall wellbeing?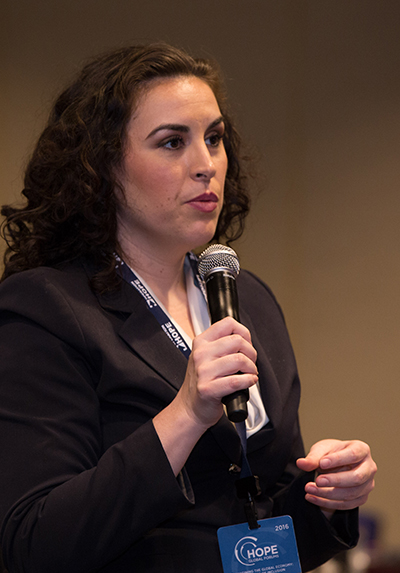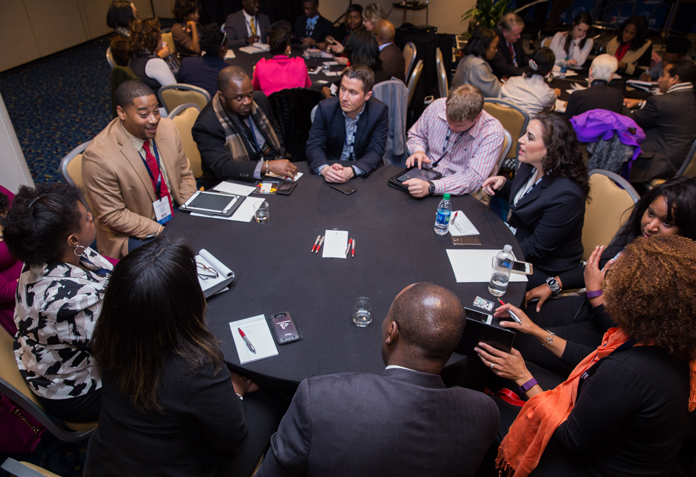 IDEA LABS PROGRAM FLOW
| | | |
| --- | --- | --- |
| Time Allotted | Purpose | Actions |
| 5 min | Context Setting | Welcome and set expectations for Accelerator Breakouts |
| 30 min | Panel Discussion | Subject Matter experts weigh in. Participants submit questions to panelists |
| 30 min | Table Discussion* | Participants discuss issues, propose "Big Ideas" solutions for group conversation |
| 20 min | Results | Share 5 'Big Idea' results with group |
| 5 min | Wrap-Up | Wrap-Up and next steps |
90 minutes total
* Session Leader Responsibility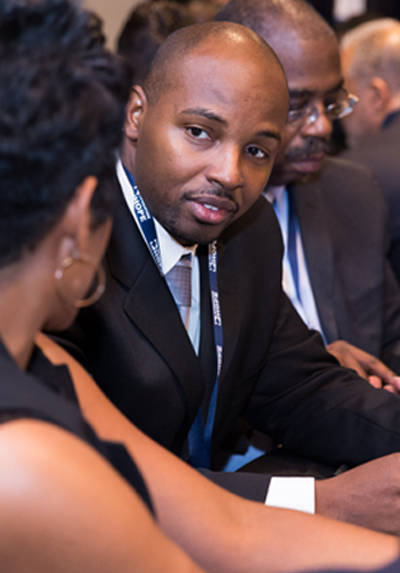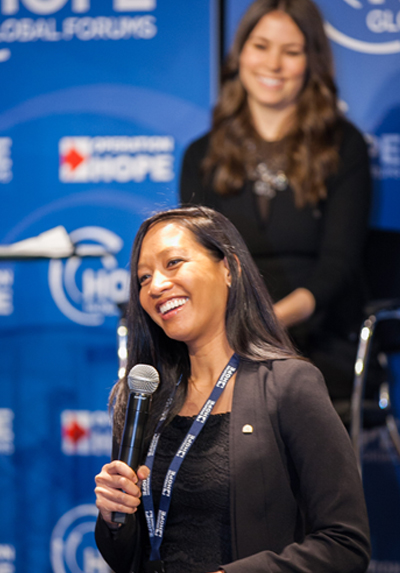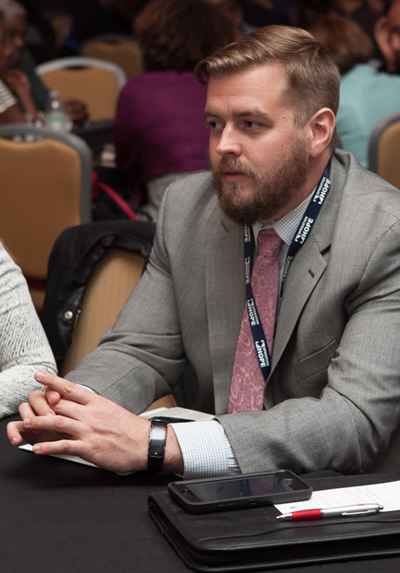 WHO ATTENDS?
Attendees comprise an eclectic slate of stakeholders from across the spectrum of our integrated global economy. Last year, the corporate, financial, governmental, technology, academic, nonprofit, startup, diplomatic, philanthropic, media and faith-based sectors were all represented. Over 4,800 thought leaders and influencers representing over 60 countries attended.