WHY BE A SESSION LEADER?
The HOPE Global Forums are a community of events that serve as a call to action: to inspire innovation and thought leadership towards an inclusive global economy that works for everyone. With over 3,200 delegates from 25 countries, our Annual Meeting is now the largest and most prestigious gathering in the world on behalf of empowering the poor.
Session Leaders are qualified and experienced industry experts, tapped to lead two 30-minute table discussions around the topic area of your assigned Idea Lab. You are key to facilitating input on the issues, sharing successful strategies and structuring recommendations and partnerships.
As a Session Leader, you will have the opportunity to engage in authentic dialogue with passionate, open-minded peers who believe in the power of ideas to change the world. You'll have the opportunity to test your ideas for the future, and you'll be challenged to positively impact your community and empower those around you in new ways.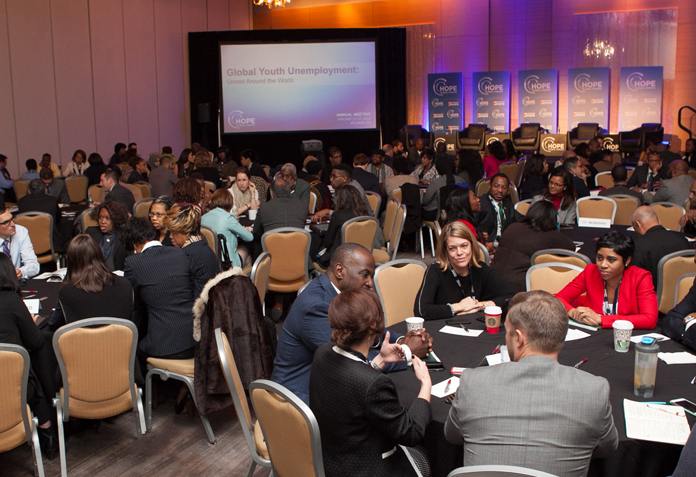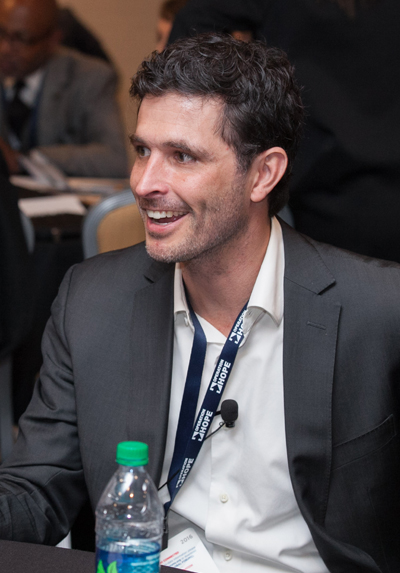 Tuesday, April 11th
INVESTING IN HUMAN CAPITAL
(After lunch session)
Adapting the Manufacturing Economy in the Age of A.I.
Throughout history, bursts of technological progress have inevitably stoked fears of coming job losses. More than 80 years ago, Keynes warned of a "new disease of technological unemployment". Today, it is the influx of artificial intelligence that is giving rise to a new wave of uncertainty.
No industry has currently more embraced, and is being impacted by A.I., than the manufacturing sector. Technologies such as big data, the internet of things, advanced robotics and 3D printing are finding their way onto the factory floor. With studies estimating automation replacing anywhere from 10%-50% of existing jobs, is this the end of manufacturing employment as we know it?
What types of successful integrations are taking place to transform the roles of human employees? How can automation be utilized to grow and expand employment in previously underserved areas? What new jobs are predicted to result from the automation wave?
Navigating a Millennial Dominated Economy
Millennials, those born between 1980 and 2000, are the largest generation in history and poised to move into their prime spending years. Their sheer numbers alone will have tremendous opportunity to reshape the economy. Their unique perceptions and experiences will change how we buy and sell, forcing companies to examine how they do business for years to come.
Millennials as a whole are deeply concerned about the economy they inherited, conflicted about the cost/benefit of higher education, face high levels of debt, are distrustful of traditional institutions and believe entrepreneurship is essential to the economy, but not a pathway that is achievable personally. According to Gallup, they are the least engaged segment of the workforce, yet a large majority want a "sense of purpose" in their work.
With so many millennials living in a multigenerational households, what are the economic implications? How does the Gen Y worldview impact their purchasing decisions? What will their spending priorities look like? How can employers engage this increasingly relevant segment of their workforce?
Solving the Small Business Slowdown
Recently, for the first time in 35 years, U.S. small business deaths outpaced small business births. While the U.S. now ranks 12th among developed nations in business startups, a focus on shifting this dynamic can have tremendous impact on job creation and economic growth.
Roughly one out of every two U.S workers is employed by a small business, with 70% of new jobs being created by small businesses. Businesses with fewer than 500 employees account for over 80% of newly created private sector jobs.
What are the implications of this small business slowdown to the U.S. and global economy? What factors are driving this changing landscape? What can the public and private sectors do to spur small business growth and encourage entrepreneurship? Where is small business thriving?
The Big Shift: Moving From Diversity to Inclusion
In today's workplace, "Diversity" and "Inclusion" are so often bundled together they run the risk of being assumed to be the same thing. Diversity highlights all the ways we differ. Inclusion involves bringing together these diverse forces and putting into practice an environment where the richness of ideas, backgrounds and perspectives are harnessed to create business value. Organizations require both diversity and inclusion to be successful.
What changes can be made within organizations to support internal and external diversity practices? What measures can be taken to increase the pipeline of qualified women and minorities? How do new employees navigate industries that have historically excluded them?
Changing Incarceration Nation
With only 5% of the world's population, the U.S. accounts for 25% of its prisoners. Economically and socially, the numbers are both overwhelming and unsustainable: 2.3 million people housed in U.S. prisons, well over half of them African American or Latino. The burden to taxpayers to maintain this system is staggering – $80 billion a year nationwide, with a per-inmate price tag of $60,000 a year in California and $167,000 in New York City, exceeding what most Americans earn.
The impact on federal, state and municipal budgets diverts much-needed spending for education, infrastructure and other quality-of-life issues. The disproportionate numbers of imprisoned minorities are tearing at the fabric of family and societal structures.
Are there more humane and economically sensible systems to consider? What policies and practices are contributing to the burgeoning prison population? What successful strategies have been deployed to transform prison systems? How can communities and law enforcement better collaborate?
Wednesday, April 12th
A NEW ECONOMIC MODEL
(After lunch session)
Vocational Education: Building the Next Middle Class
A thriving and robust middle class has been a hallmark of stable and prosperous societies. In the 20th century, sustained investment in infrastructure, technical training gained by service in the armed forces and a vast secondary vocational education network all contributed to creating a robust middle class. Currently, many forces are at work influencing the rising levels of inequality, but none are more pronounced than the differences in education levels and earnings.
Throughout the nation, the public and private sectors are dedicating resources to increase access to technical education, offering the promise of building a new middle class. What career pathways are really available? What programs work well and what makes them successful? How is technology being factored into traditional vocational learning? How do we connect vocational training to entrepreneurial enterprise?
.
.
Unlocking the Economic Value of an Aging Workforce
Older workers in aging economies are often failing to find viable livelihoods as traditional industries continue to evolve. Experienced workers are being "aged out" of their positions, often for perceived skills gaps or younger, cheaper replacements. Adding to their dilemma, many companies are reluctant to hire more seasoned employees, creating a new class of underemployed.
Personal fulfillment, financial need, increased longevity, mental acuity and rising costs of retirement are among the factors contributing to older workers remaining in the workforce. While some may view them as less productive and their skills obsolete, are they really an overlooked asset to the economy? Does the "life cycle of work" need to be redefined?
With 70% of experienced professionals planning to work during retirement, how can they be absorbed into an already competitive job market? How are companies retaining and engaging mature workers?
Banking in the Shadows: Engaging the Credit Invisibles
45 million Americans are living without a credit score – these are the credit invisibles. About 26 million American adults have no histories with national credit reporting agencies, and an additional 19 million have credit reports that are so limited or out of date that they cannot be scored. Minority households are overrepresented in this situation; African Americans and Latinos share a 15% rate of credit invisibility.
Invisibility limits financial inclusion, and it is the most vulnerable populations that suffer the most from lack of access to capital.  In the eyes of traditional financial services banks and credit unions these micro communities do not exist.Increasingly, alternative financial services like payday lenders and check-cashers are filling the void, with residents paying a steep price to meet their financial needs. By not utilizing traditional financial services and with less income available, consumers are unable to build a credit profile, which keeps them bound to the nontraditional financial services.
The challenge for the next generation of financial services providers is to develop products and services that bridge the gaps and include the credit invisibles. What is the next frontier for expanding financial access? How do changes in credit reporting affect low-to-moderate income households? Are current efforts adequate to ensure consumers understand and use the products and services to which they are being introduced?
Navigating a World Without Cash
Cash is still one of the most common forms of payment around the world – but for how long? With widespread card and mobile payment options, the share of cash transactions continue to decline. So, what happens when we become a cashless society?
Some suggest that a move towards a cashless society could actually reduce inequality. Nordic countries are leading the cashless economy, where only 5% of money in circulation is paper and inequality is amongst the lowest in the world. However, experiments in reducing cash have been less successful elsewhere, such as in India, where demonetization caused a shock to the country's economy.
What is the short-and long-term outlook for a cashless society? How is technology such as mobile payment systems and facial recognition being applied? What are the implications for privacy and security? How will lower-income populations be impacted?
Disrupting Poverty
Efforts to confront poverty effectively have dominated public policy discussions and global institutions for decades. From the U.S. anti-poverty legislation of the 1960's to the more incremental, on-and-off efforts of recent years, alleviating poverty continues to be a major agenda item for policymakers and societies as a whole.
With the public and private sectors being rapidly disrupted by emerging concepts, what are the bold, new ideas to tackle persistent poverty? Can government and public policy still provide meaningful impact? Does the private sector have a role in supporting pathways out of poverty? How can technology and data be utilized to predict/prevent poverty? What approaches have proven most effective in breaking the cycle of intergenerational poverty? How can the disparate groups addressing these issues be mobilized into a sustainable effort?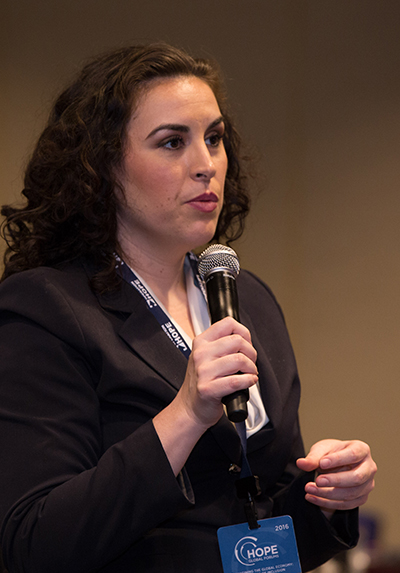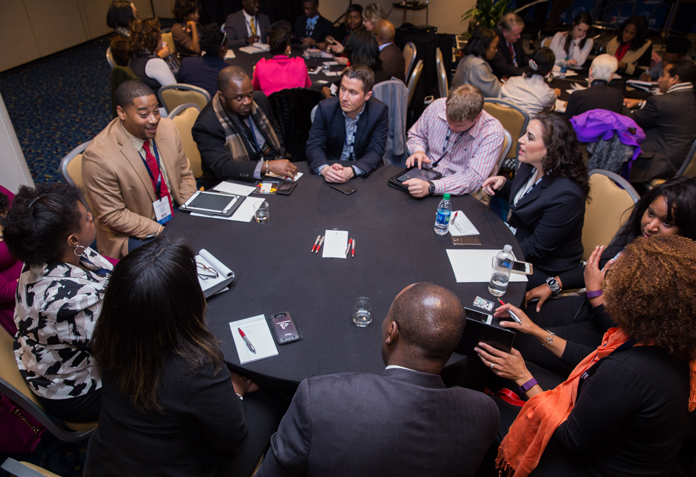 IDEA LAB PROGRAM FLOW
Time Allotted
Purpose
Actions
5 min
Context Setting
Welcome and set expectations for Idea Lab
20 min
1

st

 Panel Discussion
Subject Matter experts weigh in. Participants submit questions to panelists
30 min
1

st

Table Discussion*
Participants discuss issue, from a variety of diverse viewpoints*
20 min
2

nd

 Panel Discussion
Co-Chairs address participant questions and set stage for 2

nd

Table Discussion
30 min
2nd Table Discussion*
Participants come up with 5 'Big Idea' solutions to issues identified in 1

st

Table discussion*
10 min
Results
Share 5 'Big Idea' results with group
5 min
Wrap-Up
Wrap-Up and next steps
120 minutes total
* Session Leader Responsibility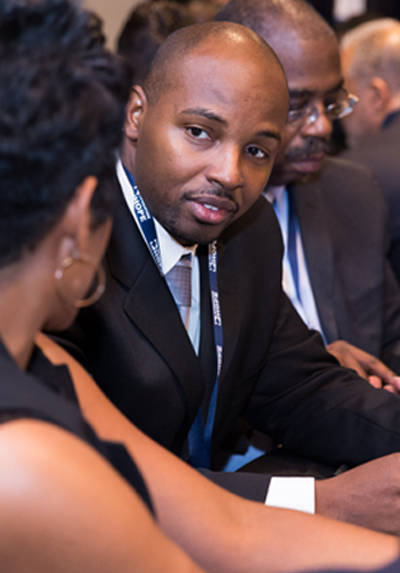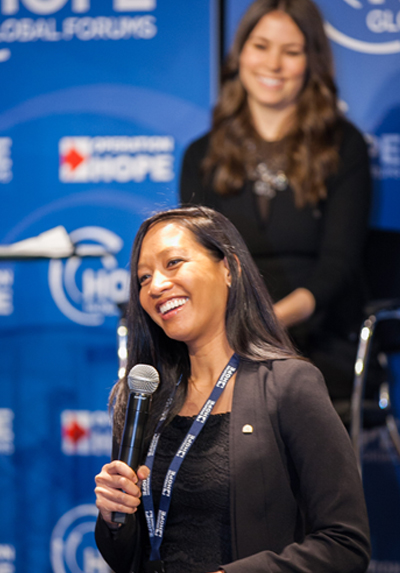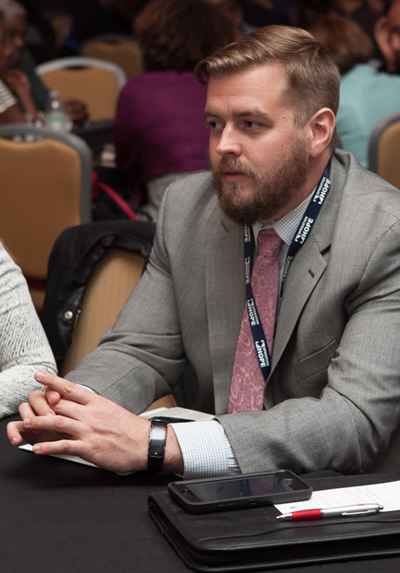 WHO ATTENDS?
Attendees comprise an eclectic slate of stakeholders from across the spectrum of our integrated global economy. Last year, the corporate, financial, governmental, technology, academic, nonprofit, startup, diplomatic, philanthropic, media and faith-based sectors were all represented. Over 3,200 thought leaders and influencers representing over 25 countries attended.