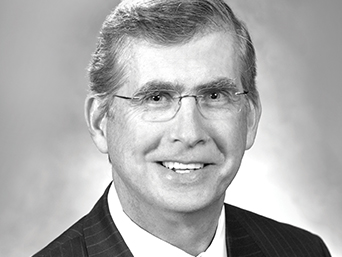 William H. Rogers, Jr.
Chairman and CEO, SunTrust Banks
---
William H. Rogers, Jr., is Chairman and Chief Executive Officer of Atlanta-based SunTrust Banks, Inc., one of the nation's largest banking organizations serving a broad range of consumer, commercial, corporate and institutional clients.
Through its flagship subsidiary, SunTrust Bank, the Company operates an extensive commercial banking, branch and ATM network throughout the high-growth Southeast and Mid-Atlantic states and offers a full array of technology-based, 24-hour delivery channels.  Through various subsidiaries, the Company provides mortgage banking, investment banking services, investment management, brokerage, insurance and equipment leasing.
Nationally recognized for its commitment to excellence in client service, SunTrust and its 26,000 teammates also contribute to the health, vitality and financial well-being of the communities they serve.  SunTrust earned Global Corporate Partner recognition from the United Way in 2011, one of about only 100 companies in the world to achieve such recognition.
Mr. Rogers began his career with SunTrust in 1980 in the commercial bank training program.
Mr. Rogers serves on several boards and is the chair of the board of directors of the Boys & Girls Clubs of Metro Atlanta. He is a member of the board of directors of the Federal Reserve Bank of Atlanta and the Atlanta Committee for Progress, as well as the national board of directors of Operation HOPE. He also serves on the Georgia State Robinson College of Business board of advisors and the Woodruff Arts Center board of trustees. Additionally, he is a trustee emeritus of The Lovett School.
Mr. Rogers received an MBA from Georgia State University and a bachelor's degree in Business Administration from the University of North Carolina at Chapel Hill.