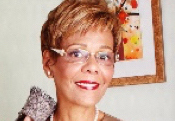 Vaughn Fauria
Executive Director/President, Yummy Spoonfuls
---
Vaughn Randolph Fauria, dynamic community servant and progressive business woman, has served as the Executive Director and President of NewCorp, Inc. since September 1997. Under her leadership, NewCorp was designated a Department of the United States Treasury Community Development Financial Institution (CDFI) and serves as the Small Business Administration's (SBA's) micro-lender for the State of Louisiana. Mrs. Fauria promotes the advancement of small, minority and women owned businesses from startup to maturity. She works closely with Minority Business Enterprises (MBEs) and Disadvantaged Business Enterprises (DBEs) to assist them along profitable growth trajectories.
Mrs. Fauria's commitment to spurring wealth creation in traditionally underserved communities is evidenced by NewCorp providing over $18 million in loans to small businesses and $10 million in disaster grants following Hurricane Katrina. These loans have contributed to the enhanced economic growth and well-being of the Greater New Orleans region and have fostered innovative development and investment, while also creating financial success and wealth building opportunities for communities of need.
Mrs. Fauria's visionary guidance has widened the scope of work for NewCorp. She recognized the artistic brilliance, creative discipline and historical significance of the Black masking Indian tradition and their need for economic sustainability. In 2014, NewCorp became the incubator of the New Orleans Black Mardi Gras Indian Cooperative. The organization has focused significant investments in research and development to identify market potential for the Cooperative to stimulate retail and manufacturing activities.
A commitment to personal and professional community service has marked the career of Vaughn R. Fauria. She has received awards from The National Association of Real Estate Brokers. Incorporated's most prestigious Acme Award in 2011; the First Annual New Orleans Business Alliance's 2012 Business Impact Award; and, the 2014 Minority Supplier Diversity Award for Small Business Advocacy.
Mrs. Fauria has a distinguished professional and educational background that spans the fields of business, finance, marketing and community advocacy. She holds a Bachelor's degree in Special Education from the University of New Orleans and a Master's degree in Social Welfare Planning, Research and Administration from State University of New York, Stony Brook. She has over 30 years of corporate experience gained at Xerox Corporation, the Greater New Orleans Foundation (GNOF) and Stony Brook Foundation of the University of New York, Stony Brook.