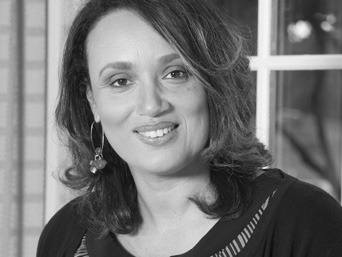 Tonya Allen
President and CEO, The Skillman Foundation
---
Tonya Allen, a serial "idea-preneur," serves as the Foundation's president & chief executive officer. Her two-decade long career has centered on pursuing, executing and investing in ideas that improve her hometown of Detroit and reduce the plight of underserved people, especially children. Allen has been instrumental in many successful philanthropic, government and community initiatives and has a comprehensive understanding of philanthropic governance and strategy.
In her current role, Allen aligns the complexities of education reform, urban revitalization and public policy, so that these sometimes divergent areas of work come together to improve the well-being of Detroit's children. She serves as the architect of the 10-year, $100 million Good Neighborhoods program. She orchestrated the development of a $200-million, citywide education reform organization called Excellent Schools Detroit, and a high-school improvement strategy has resulted in 15 new college-preparatory high schools.
Allen was named to Crain's Detroit Business 40 under 40 list, received the national Brick Award given to activists under age 30 by Rolling Stone Magazine, was one of the first Detroiters to receive the prestigious Marshall Memorial Fellowship, and was named one of the Chronicle of Philanthropy's "5 nonprofit innovators to watch" in 2013. She holds a bachelor's degree in sociology and masters' degrees in social work and public health, all from the University of Michigan-Ann Arbor. She serves on numerous boards and committees, both local and national, including The Funders Network for Smart Growth, Grantmakers of Children, Youth and Families, Council of Michigan Foundations and Association of Black Foundation Executives.
Before joining the Skillman Foundation in 2004, Allen worked as a program officer for both the Charles Stewart Mott Foundation and the Thompson-McCully Foundation. She founded and was the executive director of Detroit Parent Network, a parent membership organization dedicated to improving educational options for children, and led the Annie E. Casey Foundation's Rebuilding Communities Initiative in Detroit.
Allen describes herself as "a quasi-introvert masquerading as an extrovert." Her ambition is to marry those vastly different parts of her personality to live a balanced, joyful and authentic life. Her sense of humor and faith keep her inspired and grounded as she works to make Detroit, the city she loves, a better, stronger, more thriving place for children. She's married to husband, Louis, and has three daughters, Phylicia, Brianna and Alanna. Together, the couple owns and operates a Christian entertainment company, Highly Favored Productions.