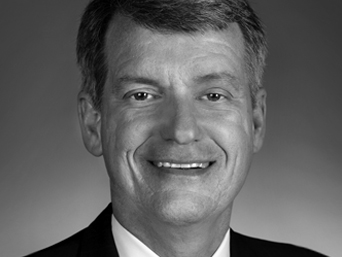 Timothy J. Sloan
Chief Financial Officer,
Wells Fargo
---
Timothy (Tim) J. Sloan became President and Chief Operating Officer in November 2015 and is responsible for the operations of the company's four main business groups: Community Banking, Consumer Lending, Wealth and Investment Management and Wholesale Banking. In his continuing role as head of Wholesale Banking, he oversees Asset Backed Finance, Business Banking, Capital Finance, Capital Markets, Commercial Banking, Commercial Real Estate, Corporate Banking, Equipment Finance, Insurance, International, Investment Banking and Treasury Management groups. Tim serves on the Wells Fargo Operating and Management Committees and is based in San Francisco.
A 28-year veteran of Wells Fargo & Company, Tim has served as the chief financial officer and was responsible for the financial management functions including controllers, financial reporting, tax management, asset liability management, treasury, corporate development, investor relations, investment portfolios, strategic planning and the company's corporate properties functions. Prior to that, Tim was chief administrative officer and managed Corporate Communications, Corporate Social Responsibility, Enterprise Marketing, Government Relations and Corporate Human Resources for the enterprise.
From 1991 to 2010, Tim served in various leadership roles in Wholesale Banking including head of Commercial Banking, Real Estate and Specialized Financial Services. Prior to joining Wells Fargo as a vice president with the Loan Adjustment Group in 1987, he worked for three years at Continental Illinois Bank in Chicago.
Tim earned his B.A. in economics and history and his M.B.A. in finance and accounting, both from the University of Michigan in Ann Arbor.
With a strong commitment to community, Tim serves on the Board of Overseers of the Huntington Library, and is a member of the University of Michigan's Ross School of Business Advisory Board. He is a trustee of Ohio Wesleyan University and the City of Hope. He is also a member of the Board of Directors of California Resources Corporation and a member of the Board of Trustees at California Institute of Technology.