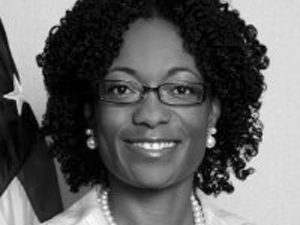 Tameka Montgomery
Associate Administrator, Office of Entrepreneurial Development
U.S. Small Business Administration
---
Appointed to the position of Associate Administrator of the Office of Entrepreneurial Development at the U.S. Small Business Administration (SBA) in 2013, Tameka Montgomery manages the agency's counseling and training programs which serve more than 1.5 million entrepreneurs and small businesses nationwide. She oversees entrepreneurial program development and implementation within SBA's Office of Small Business Development Centers, the Office of Women's Business Ownership, and the Office of Entrepreneurship Education.
Prior to joining SBA, Montgomery was the executive director of the Denver Metro Chamber Leadership Foundation, an affiliate of the Denver Metro Chamber of Commerce that is focused on preparing and connecting leaders from the business and civic communities to strengthen Colorado's future.
Prior to her role at the Denver Metro Chamber Leadership Foundation, Montgomery served as the executive director of the nationally recognized Denver Metro Small Business Development Center (Denver Metro SBDC) for more than seven years.  The SBDC is an affiliate of the Denver Metro Chamber of Commerce. While there, she provided vision, leadership and strategic direction to develop and deliver programming and services for small businesses. She managed three offices, a team of staff, consultants and volunteers serving more than 4,000 individuals and businesses each year. Under Montgomery's leadership, the Denver Metro SBDC also received national recognition by SBA as the 2012 National SBDC of the Year and winner of the 2012 SBDC Excellence and Innovation Award. Prior to the Denver Metro SBDC, Montgomery launched a business incubator that provided low-cost office space, business support services and technical assistance to area entrepreneurs.
Montgomery was named one of Denver Business Journal's Forty under 40 in 2011 and, in 2012; she was recognized as a Living Legend by the National Council of Negro Women. Ms. Montgomery initially began her federal service as a Presidential Management Fellow with the U.S. Department of Justice.  She was also a Peace Corps Volunteer, serving two years in West Africa.
Tameka holds a bachelor's degree from Spelman College and a master's degree of public administration from Columbia University. In May 2012, Johnson & Wales University conferred upon Montgomery an honorary doctorate of business administration in entrepreneurship.