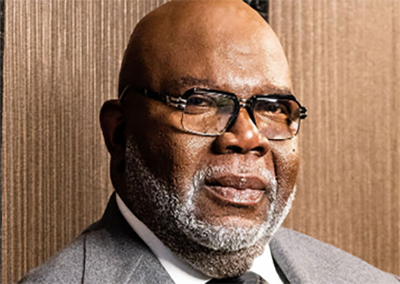 Bishop T.D. Jakes
Chief Executive Officer, TDJ Enterprises
---
Bishop T.D. Jakes, one of the world's most revered masterminds, leverages his pioneering vision and instinct to serve others in areas extending beyond the church.  In order to help lead people to their destiny, you have to meet people where they are in life. It is with this earnest approach that Bishop Jakes has been able to reach millions of people from all socioeconomic backgrounds, races, nationalities, and creeds.  Digital media, film, and television, among others, have been instrumental in helping Bishop Jakes meet the disparate needs of countless individuals.
In September 2016, T.D. Jakes launched the TD Jakes Show, an intellectually invigorating, yet practical daytime talk show, where Bishop helps his guests lead empowering lives through candid conversation. As a visionary leader, T.D. Jakes encourages you to think differently – and progressively – so that you can create a more meaningful life experience that is truly your own. The adage, "Give a man a fish and you feed him for a day; teach a man to fish and you feed him for a lifetime" is the bedrock of Bishop's visionary leadership.
Faithful Pastor
For more than 40 years, Bishop T.D. Jakes has helped millions of people realize their purpose through his dynamic ministry. Recognized as "America's Best Preacher" by Time Magazine, as well as "One of the Nation's Most Influential & Mesmerizing Preachers" by The New York Times, Bishop Jakes remains a charismatic, yet humble man. In 1996, with minimal resources, T.D. Jakes founded The Potter's House (TPH), a non-denominational, multicultural church and global humanitarian organization, in Dallas, Texas. The church has since expanded to include more than 30,000 members, with more than 50 diverse ministries. While TPH, located in southern Dallas, is the designated home to numerous members, Bishop Jakes has fulfilled the needs of those residing in the northern and western regions of the Dallas-Fort Worth metroplex, as well as out-of-state. TPH campuses are also present in Frisco and Fort Worth, Texas, as well as Denver, Colorado.
Bishop Jakes faithfully serves his local and global communities to embolden those who are marginalized, from Dallas, Texas to South Africa to Sydney, Australia. "The Potter's House charter is to extend a hand of help to the needy, a heart of compassion to the hurting, and a message of empowerment to the disenfranchised." To this end, Bishop Jakes provides a welcoming church environment to all. Unequivocally, the diversity displayed throughout TPH is what makes it a truly progressive church, serving people of every socioeconomic status, age, nationality, and race. Each year Bishop Jakes helps underserved communities through TPH ministries, including homeless outreach, GED/literacy programs, and AIDS outreach. Bishop Jakes also empowers communities through distinct national ministries, including Global Partner System (GPS), MegaCARE, and Texas Offenders Reentry Initiative (T.O.R.I.). With a steadfast love of people, TPH is consistently ranked amongst the nation's most influential churches each year.