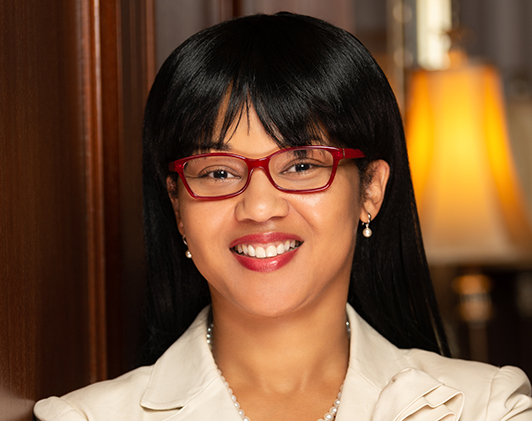 Sheronn Harris
Founding Principal and Attorney, The Harris Firm, PC
---
Entrepreneur, realtor and principal attorney at The Harris Firm PC, Sheronn Harris provides legal services specializing in real estate and housing law and advises clients on homeownership, wealth building, estate planning, residential and commercial investment.
Sheronn uses her professional talents for public service through organizations aligned with her passions. She is an executive board director for Georgia Watch the state's leading consumer advocacy organization and serves on several State Bar of Georgia committees. Sheronn is an active participant in many civic organizations and has served over two decades on nonprofit and statewide consumer protection boards. She has worked with the state legislature and policy advocates drafting bills to improve public and consumer interests. Additionally, she holds leadership positions for numerous bar associations and law & policy organizations. Following her passion for civic engagement, she participates in campaigning for community and public policy projects and elected officials. She has been admitted to every local and federal court within Georgia and to the highest court in the land – the United States Supreme Court.
She has been awarded and recognized by several foundations, national bar associations, non-profits and advocacy organizations for extending pro bono services that furthers underserved individuals access to justice. She has published articles, analyses of proposed legislation, comments on consumer rights and protections as a means of providing public education.
For her work, she has received awards and recognition from the American Bar Association, State Bar of Georgia, Atlanta Volunteer Lawyers Foundation, Atlanta Legal Aid and Georgia Association of Black Women Attorneys. She has been invited to numerous leadership institutes and fellowships including Arts Leaders of Metro Atlanta, State Bar of Georgia Leadership Academy, Georgia Economic Development Leadership Academy and Georgia Appleseed Center for Law and Justice to name a few.