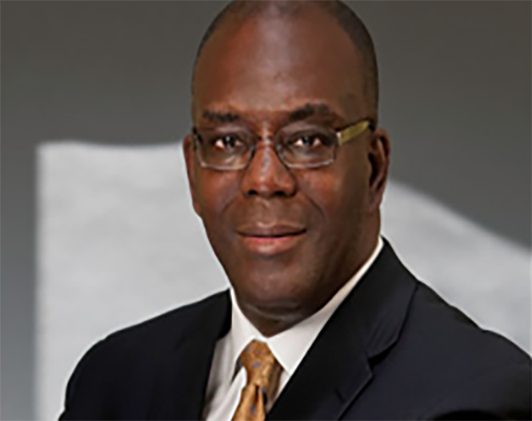 Ronald Johnson
Chairman of the Consumer Advisory Board, Consumer Financial Protection Bureau
---
Ronald A. Johnson, Ph.D., has successfully led the transformation of corporate, academic, and government organizations through visionary and strategic leadership. He was appointed to the Consumer Advisory Board (CAB) of the Consumer Financial Protection Bureau of the United States (CFPB) on October 1, 2018 and currently serves as its chair. He leads the CAB in advising the CFPB on the regulation of traditional and innovative consumer financial products and improving transparency and consumer financial education.
Throughout his career, Dr. Johnson has focused on developing pathways for achieving sustained US economic growth that leads to a reduction in disparities in employment opportunities, earnings, and wealth accumulation for underrepresented communities. His approach to finding better pathways to a thriving economic future involves providing underserved communities with 1) early awareness of employment and entrepreneurial opportunities; 2) skill preparation and guidance; 3) financial assistance; 4) financial education; and 5) talent pipelines to and partnership opportunities with globally competitive industries and organizations.
Dr. Johnson served as president of Clark Atlanta University from 2015 to 2018. He was the dean of the schools of business at Western Carolina University and Texas Southern University from 2007 to 2015. He was president and chief investment officer at Smith Graham & Company, an institutional investor advisor, from 1999 to 2005. In addition, he served as director of fixed income research and senior portfolio manager for Templeton Worldwide Inc., a global investment advisor, from 1995 to 1999, and worked as the chief strategist and chairman of the investment committee for Americas Trust Bank, a Latin American investment advisor, from 1993 to 1995. Early in his career, Dr. Johnson served as an economist at the Board of Governors of the Federal Reserve System and the International Monetary Fund, and as division chief at the Federal Reserve Bank of New York.
Dr. Johnson is a member of Leadership Atlanta's Class of 2018, Leadership North Carolina, Class XVIII, 2011, and the Center for Houston's Future Leadership Forum, Class of 2002. He is a member of the Sigma Pi Phi Boulé Fraternity and the One Hundred Black Men of Atlanta. He earned his Ph.D. and Masters' in Economics from Stanford University and his MBA in Finance and BA in Economics from Adelphi University.
A recognized community leader, Dr. Johnson was selected as a member of the President's Advisory Board of the White House Initiatives on HBCUs in 2018, the Atlanta Business Chronicle's 2018 Power 100 list and the Atlanta Business League's 2017 Men of Influence. He is the recipient of the National Diversity Council's 2018 Leadership Excellence Award. He has served on many boards and advisory committees, including the Atlanta Committee for Progress and the Metro Atlanta Chamber of Commerce.