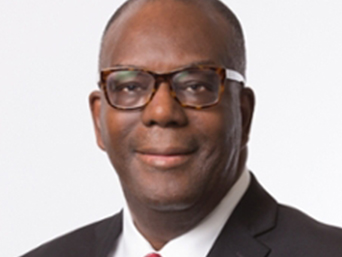 Ronald A. Johnson, Ph.D.
President, Clark Atlanta University
---
Dr. Ronald A. Johnson assumed the presidency of Clark Atlanta University on July 1, 2015.
Born in Brooklyn, N.Y., he earned the B.A. in economics and the MBA in finance from Adelphi
University. He earned the M.A and the Ph.D. degrees in economics from Stanford University. As the
new president of Clark Atlanta University (CAU), he will harness a tremendous wealth of academic
talent of faculty and students and a nationwide base of passionate alumni and opportunities to
create strategic alliances that will elevate CAU's competitive advantage. Dr. Johnson and his wife,
Irene, expect to sustain the vibrancy of CAU as a premier institution of higher education and
learning. They want to help build a CAU community that is inspired by social purpose and fueled by
intellectual vitality, cultural diversity, and global awareness.
Prior to becoming the CAU president, Dr. Johnson had been the dean of the Texas Southern
University Jesse H. Jones (JHJ) School of Business and a full professor of finance since
2011. Under his leadership, in 2014, the JHJ School of Business was listed as one of The Princeton
Review's 295 best U.S. business schools, and GetEducated.com listed its eMBA program as one of
the best online buys; in 2015, U.S. News & World Report listed the JHJ School of Business as one
of the best graduate schools. Dr. Johnson also served as dean of the Western Carolina University
College of Business in Cullowhee, N.C., where the MBA program was included in The Princeton
Review's Best Business Schools in the nation; its online master's degree program in project
management earned GetEducated.com's distinction as the nation's top-ranked online program in
quality and affordability.
Dr. Johnson built his career around teaching, mentoring and preparing future leaders in the
investment, global financial management, international business, portfolio and securities analysis,
economics and banking arenas, serving with distinction for two decades as BB&T Distinguished
Professor of Capitalism and professor of finance, Western Carolina University; JP Morgan Chase
Professor of Finance, Texas Southern University; visiting associate professor of finance in the
School of Business and Industry at Florida A&M University; assistant professor of finance,
Northeastern University; and visiting assistant professor of economics, Howard University. He also
served as president and chief investment officer of Smith Graham & Company, an institutional
investment management company in Houston, Texas, where he managed $3 billion in assets. Prior
to joining Smith Graham, he served as director of global fixed income research and senior portfolio
manager for Templeton Worldwide Inc. in Fort Lauderdale, Fla., where he oversaw assets valued at
$2 billion. Dr. Johnson also served as the chief strategist and chairman of the investment committee
for Americas Trust Bank in Miami, Florida; division chief for domestic financial markets with the
Federal Reserve Bank of New York; and as an economist with the International Monetary Fund, as
well as The Federal Reserve System Board of Governors in Washington, D.C.
Clark Atlanta University is the largest of the nation's UNCF 37 member institutions, as well as the
largest among its affiliated United Methodist Church Global Higher Education Ministries HBCU
institutions. As such, Dr. Johnson will work with talented faculty, dedicated staff, and engaged
students to produce the next generation of global leaders of research, innovation, and education that
touch the lives of millions of people in the United States and worldwide. Reinvigorating CAU's
research and education model and realizing strategic advantages will result in increased enrollment,
enriched bases of graduate and undergraduate research, strengthened student support programs,
and increased external funding support. Dr. Johnson says that:
Today, we see a university that is poised to be a leading model for the 21st century in teaching,
learning, and world-class research. Our aim is for the world community to see, embrace and share
in the awesome mix of inspiration, value creation, and leadership that will continue to be the mark of distinction for Clark Atlanta University