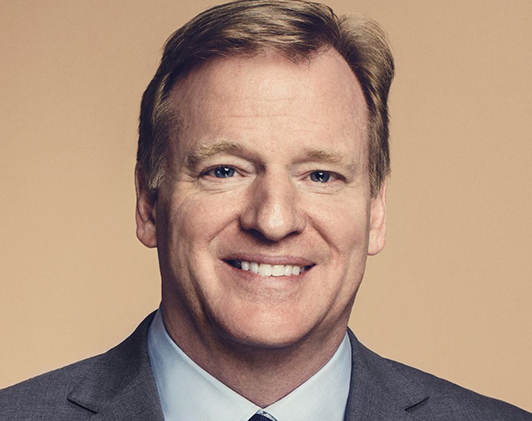 Roger Goodell
Commissioner, National Football League
---
Roger Goodell is the eighth chief executive of the National Football League, having recently completed its 100th season. Commissioner Goodell took office on September 1, 2006, 24 years after he joined the league, where he held numerous football and business operations roles prior to being appointed Commissioner. Commissioner Goodell's priorities have focused on making the game better and safer, while successfully growing the popularity of the NFL and its 32 teams. Fan interest in the NFL has soared under Goodell, including the largest audiences in television history, as well as enormous growth in digital and social media engagement.
Under Commissioner Goodell's leadership, the NFL has focused on improvements to player health and safety, benefits for retired players, the league's personal conduct policy, expanding social responsibility initiatives, diversity in hiring practices, revenue sharing, stadium development, fan experience, media innovation, international development, officiating and rules changes – all to increase the quality, safety and enjoyment of the game.
In 2011, Commissioner Goodell led the league to secure a landmark 10-year Collective Bargaining Agreement with the NFL Players Association. Under his guidance, the NFL has developed innovative media initiatives, including Thursday Night Football's tri-cast distribution model, partnerships with YouTube, Twitter, Snapchat and others, and long-term extensions of the NFL's television contracts. And in 2016, after more than two decades without a team, Commissioner Goodell helped usher the return of football to Los Angeles.
Commissioner Goodell and his wife Jane are the proud parents of twin girls. Goodell serves on the boards of Big Brothers and Big Sisters of New York City, GENYOUth Foundation, National Football Foundation, Paley Center for Media, and Ross Initiative in Sports for Equality.