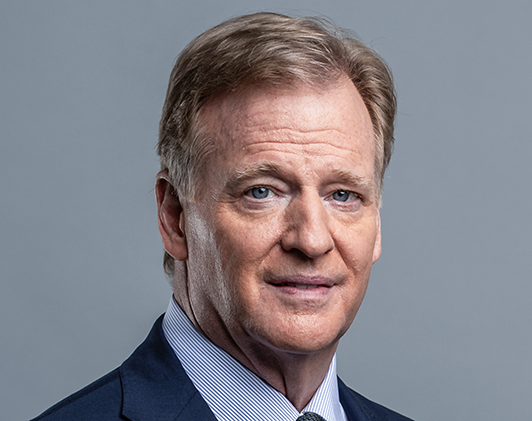 Roger Goodell
Commissioner, National Football League
---
Roger Goodell serves as Commissioner of the National Football League, a position he has held since 2006. In his tenure as the league's chief executive, and in collaboration with the league's now 32 clubs, Goodell has led the NFL through robust growth, prolific innovation and global expansion. As NFL fans can attest, football bonds families, friends and communities with a passionate love of the game.
Passion for the game, players and fans has been a hallmark of Goodell's career. A three-sport team captain at Bronxville (NY) High School, Goodell graduated from Washington and Jefferson College in 1981, determined to land a first job with the League. Dozens of unsolicited application letters later, Commissioner Pete Rozelle took notice, granting Goodell an internship in the League office.
From that entry-level opportunity, Goodell worked in myriad football and business capacities, as the NFL's first Chief Operating Officer in 2001. Throughout those two decades, Goodell took on responsibilities that included stadium development, team realignments, marketing, media partnerships, international initiatives and League communications strategy.
Upon succeeding Commissioner Paul Tagliabue, Goodell has focused on improving the game for players and fans alike. He established a League-led multidisciplinary approach to critical player health and safety issues, enhanced benefits for retired players, and championed players' opportunities to address racial and social injustice. The Commissioner continues to press efforts to expand diversity and inclusion throughout the League, and oversees League philanthropy through the NFL Foundation, supporting causes ranging from cancer prevention to stemming domestic violence to the needs of military families and beyond.
Football fans in America and worldwide continue to enjoy an enhanced game experience through stadium improvements and tech innovations, expanded regular and postseasons, innovative rule changes, and NFL coverage on a variety of new media platforms. In 2022, the NFL played its 100th international regular season game, affording hundreds of thousands of fans in Mexico, Germany and the UK exciting game days.
Commissioner Goodell led negotiations that secured two, ten-year transformative Collective Bargaining Agreements, ensuring labor peace for a generation with landmark agreements in 2011 and 2020.
In 2021, Goodell successfully concluded long-term agreements with media partners Amazon, CBS, ESPN/ABC, FOX, and NBC to distribute games on broadcast television, cable and digital platforms, affording fans unprecedented choice and access to the game and their teams. By putting games on each of our partners' digital platforms and on NFL+, the League is meeting its viewers' evolving media consumption habits and growing the next generation of fans. This strategy continued in 2022 when the Commissioner signed a multi-year agreement with YouTube to exclusively distribute the League's out-of-market Sunday regular-season game package, NFL Sunday Ticket.
From the increasing fervor surrounding NFL Draft weekend, to the iconic Super Bowl moments that cap every season, the NFL has evolved into a year-round, shared global cultural experience.
Goodell serves on the board of Big Brothers and Big Sisters of New York City, the National Football League Foundation, GENYOUth Foundation, and the Paley Center for Media.
Commissioner Goodell is married to Jane Skinner Goodell, and they are the proud parents of twin daughters. Together, they support organizations focused on our nation's veterans, domestic violence survivors, and access to mentorship, physical activity and sports for young people.