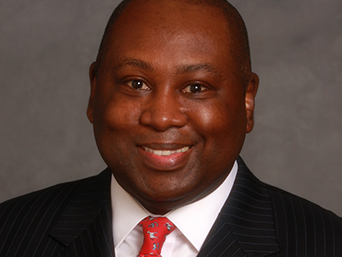 Rodney E. Hood
Corporate Responsibility Manager, Office of Nonprofit Engagement
---
Rodney Hood is Corporate Responsibility Manager at JPMorgan Chase & Co. He works in the Office of Nonprofit Engagement where he is responsible for managing relationships with national organizations that assist the bank in strengthening neighborhoods, spurring small business development, promoting financial education & inclusion and providing community development and affordable housing to underserved communities.
Prior to joining JPMorgan Chase, Mr. Hood was appointed by President George W. Bush and confirmed by the United States Senate as Vice Chairman of the National Credit Union Administration (NCUA), the regulatory body for America's credit union system. While at NCUA, he served on the Board of Directors of NeighborWorks America along with counterparts from the FDIC, OCC, Federal Reserve, and HUD. Prior to NCUA, Mr. Hood served as a Presidential-Appointee at the U.S. Department of Agriculture where he was the Deputy Administrator of the Rural Housing Service. Before public service, Mr. Hood held management positions in retail finance, commercial banking, affordable housing, and community development lending at G.E. Capital, NationsBank, and Wells Fargo.
Named a "Young Global Leader" by the World Economic Forum in February 2008, Mr. Hood is a delegate to the group's Annual Economic Conference in Davos, Switzerland. In addition, he was also named a Young Leader by the American Council on Germany and serves as a delegate on many of the organization's cultural & business exchange programs in Berlin and Munich. Mr. Hood was also named one of the "40 Young Leaders Under the age of 40" by the Triangle Business Journal.
The North Carolina Legislature recently elected him to serve as a member of the Board of Governors for the University of North Carolina College System. In this role, Mr. Hood provides policy oversight, financial stewardship, and corporate governance for the state's 17 public universities; 220,000 college students; and 45,000 system-wide faculty and staff. He sits on both the Audit Committee and the Educational Planning Committee.
A native of Charlotte, North Carolina, Mr. Hood holds a BA degree with Distinction in Business, Communications, and Political Science from the University of North Carolina at Chapel Hill.