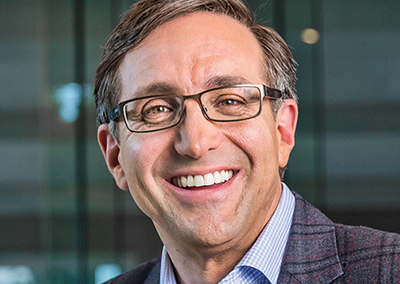 Richard Kopelman, CPA, CGMA
CEO and Managing Partner, Aprio
---
Richard is the strategic visionary leading Aprio's growth to the next level. For the past 20 years, Richard has enabled clients' success by focusing on what he can do FOR them not what he could do TO them. This distinction has resulted in the success of many high-growth businesses in the areas of manufacturing, distribution, transaction processing, service providers and insurance agencies. In fact, he has helped companies increase profits by 500 percent by using Lean Manufacturing and the Theory of Constraints.
He is known for being one of the most well-rounded business leaders in Georgia because of his ability to offer strategic consultation and insights, which has changed the game for many of his clients, while at the same time being able to dive into the details of a company's financials to discover opportunities for efficiencies, thus improving financial performance. Richard gets results. He has helped clients throughout the country recover millions of dollars in federal and state tax refunds targeted as incentives for high-growth companies.
Prior to his role as CEO and managing partner, Richard was the partner in charge of the firm's Manufacturing and Distribution industry group, having grown that group's revenue by 800 percent since 2001. He is regularly called on by the national and local business, trade and industry press for expert commentary and insights. He is quoted frequently in publications like IndustryWeek, Manufacturing & Technology, Food Manufacturing, Plastics News, Accounting Today and the Atlanta Business Chronicle. He also has been interviewed by WSB-TV, WSB-Radio, Fox News and National Public Radio (NPR) on important business issues.
From 1999 to 2001, he served as a part-time CFO for a technology startup that today is one of the largest online managing general insurance agencies in the country.
Richard earned his Bachelor of Science degree in Accounting from the University of South Florida and joined the firm in 1992. He is licensed in Georgia and Wisconsin, and serves clients nationally and globally. His professional affiliations include:
Next Generation Manufacturing – Founder
Morison Global – Past International board member
Vistage International
Rotary Club of Atlanta
American Institute of Certified Public Accountants
Georgia Society of Certified Public Accountants
Manufacturing Services Association – Past president
Georgia Association of Manufacturers (formerly GTMA) – Past member
Association for Corporate Growth, Georgia Chapter – Past board member
Georgia QuickStart Advisory Committee – Past member
AeA Southeast – Past board member