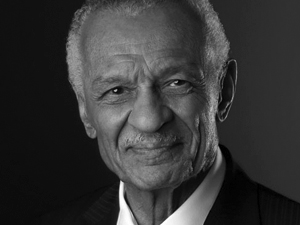 Rev. Dr. C.T. Vivian
Presidential Medal of Freedom, Civil rights activist and Pastor
---
C.T. Vivian says his mother and grandmother had a vision for his life. Despite losing their family farm to the Depression, a home to arson and their husbands, these women were determined that their son would become an educated, self-confident leader and continue the family's progress from slavery. Because of this foundation, Vivian spent his life using his position to stand up for the rights of others and became a vanguard in the struggle for racial equality.
The only child of Robert Cordie and Euzetta Tindell Vivian, young Cordy Tindell ("C.T.") moved to Macomb, Illinois with his mother and grandmother in 1930. The women chose Macomb because it had non-segregated schools and a local college. After graduating from Macomb High School in 1942 where he had been an active student leader, Vivian began a stint at Western Illinois University. He decided to leave college and moved to Peoria to work at the Carver Community Center as assistant boy's director. There he met his wife, Octavia, who also worked at the center.
In 1947, Vivian participated in his first non-violent action to end segregation at lunch counters in Peoria. But because of his strong religious upbringing and beliefs, he says he was called to a life in the ministry. However, he saw no separation between civil rights, faith and ministry because "racism is a moral issue." With the help of his church, he enrolled in American Baptist Theological Seminary in Nashville in 1955.
Also in 1955, he and other ministers founded the Nashville Christian Leadership Conference, an affiliate of the Southern Christian Leadership Conference (SCLC). The group organized and trained students to embark on a movement to end segregation in Nashville. The Nashville affiliate organized the city's first sit-ins in 1960 and led the first march of the Civil Rights Movement. In 1961, he joined Student Nonviolent Coordinating Committee (SNCC) members and other ministers to continue the Freedom Rides into Jackson, Miss. after a group from the Congress of Racial Equality disbanded. The SNCC group was arrested and Vivian was badly beaten at Parchman Prison. In 1963, Martin Luther King asked Vivian to work on the Executive Staff of the SCLC as the national director of affiliates. As an SCLC strategist, he worked to help get the Civil Rights Bill and Voting Rights Acts passed. In 1965, he famously confronted Sheriff Jim Clark on the steps of Selma's courthouse while leading blacks to register to vote.
After leaving SCLC in 1966, he moved to Chicago to direct the Urban Training Center for Christian Missions where he trained clergy, community leaders and others to organize. Later, as a coordinator for the Coalition for United Community Action, he led a direct-action campaign against racism in trade unions and helped mediate a truce among Chicago gangs. In 1972, he became the director of Seminary Without Walls at Shaw University Divinity School in Raleigh, N.C.
Among his many leadership roles, he serves on the board of the Center for Democratic Renewal, the National Voting Rights Museum and as a founder of Capital City Bank, a black-owned bank in Atlanta. He has provided civil rights counsel to Presidents Johnson, Carter, Reagan and Clinton and continues to lecture on racial justice and democracy. He resides in Atlanta.