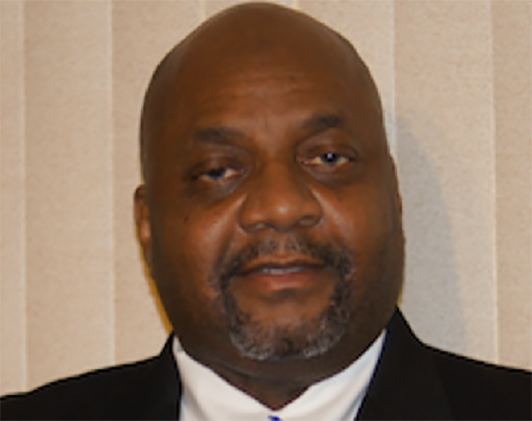 Reginald Sluch
Chief Executive Officer, Experian North America
---
A native of New Orleans, LA, Reggie Sluch is the oldest of two children born to William Sluch and the late Betty Sluch. He attended the University of New Orleans and later Loyola University of New Orleans where he studied Computer Information Systems/Management.  While on active duty Marine Corps, he completed his BBA in Computer Information Systems/Business Management in 1989. 
Reggie began his professional career in Information Systems on active duty in the United States Marine Corps in 1986 as a computer programmer/analyst. After a five-year active duty stint in the Marine Corps, Reggie embarked on developing a career in corporate America.  While maintaining his reserve status, he rose to the rank of Gunnery Sergeant, leader of Marines.  Reggie ambitiously navigated through the corporate ranks at various leading companies and eventually landed in the role of Director, Human Resources Systems Projects at the First American Corporation in 2001.  Since that time, Reggie has been in consulting/leadership roles managing software implementation    projects for various Fortune 1000 clients via leading software and consulting firms.  In 2010, Reggie decided that he was ready to take the next step in his career and embarked upon starting his own consulting firm, The NOLA Group, LLC (www.nolagroupllc.com). He is currently the Owner/Managing Partner and driving successful delivery to clients.   The NOLA Group specializes in providing technical and functional support for ADP's Workforce Now and Ceridian's Dayforce software. The NOLA Group has successfully delivered to high profile clients Ericsson, Accor Hotels, Cornerstone Healthcare Group, Silverleaf Resorts, Lloyd's Banking Group, NCH Corporation, CalOptima, Ciber, Curo Health Services, Planned Parenthood, Touchstone Medical Imaging, BMI Music, Kubota Tractors, YMCAs, zulily and Low T Centers over the last five (9) years and continues to grow.  The NOLA Group has also provided internships to aspiring young and talented students preparing them for successful careers in business. With continued growth and expansion, The NOLA Group now has 22 consultants working to provide exemplary services to its clients.  This is reflected in the increases in volume as annual revenues reached $2M in 2020.
Reggie has three children, Sharde (35), Shane (32) and Shandice (28) and resides in Rowlett, TX. He also has a grandson, Lathan (11).  He is working diligently to build The NOLA Group to expand in the Human Capital Management (HCM) consulting space.