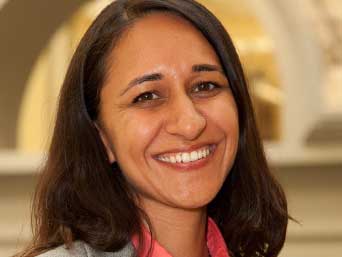 Reena Hajat Carroll, MSW
Executive Director, Diversity Awareness Partnership
---
Reena Hajat Carroll is the Executive Director of the Diversity Awareness Partnership (DAP), a non-profit organization that promotes diversity and inclusion throughout the state of Missouri around issues of race, religion, sexual orientation, gender identity and disability.
She holds a masters degree in social work from Washington University's Brown School of Social Work with an emphasis on social and economic development and an undergraduate degree in Sociology from Occidental College. Reena has trained over 10,000 people and given national keynotes focused on diversity, inclusion, and the importance of using dialogue instead of debate when it comes to discussing difficult issues.
Currently, she serves on several boards in the St. Louis community, including the Women's Society of Washington University, Children's Hospital Community Advisory Board, University of Missouri St. Louis Non-Profit Management Advisory Board. She was appointed by former Governor Nixon to the Missouri Community Service Commission. Reena also serves as an adjunct faculty for Washington University in St. Louis teaching diversity and inclusion.
Reena is the recipient of the St. Louis Business Journal's Inclusive Leader Award, Bank of America's Local Hero Award, and the Brown School of Social Work's Distinguished Alumni Award. Additionally, she is a graduate of the CORO Women in Leadership Program and the St. Louis Business Diversity Initiatives Fellows Program.