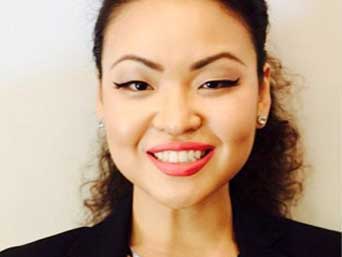 Raeha Kim, Esq.
Founder & CEO, Millennials Chamber of Commerce
---
As an eight-year-old girl arriving to the U.S. from South Korea and then in grade school, the newest addition to the largest melting pot in the nation was far from nervous about the sudden and transformative immersion into American language and culture. In fact, she was eager to get to know the new place she called home – Queens, New York. Against all odds and being told she was too far behind to catch up with her peers, the spritely novice to the English language entered a story-telling contest which was to be performed in front of the entire student body …and won. Not to mention, she was first runner up in 32 school districts. While she admittedly struggled to pronounce certain words, the head strong NYC transplant refused to squander the opportunity to be heard and spoke in front of the entire school despite the language barrier. This is when the ever-so-animated keynote speaker found her voice and her calling.
Raeha Kim is the Founder and CEO of Millennials Chamber of Commerce, also known as MC2, a benefit organization dedicated to engaging, educating and empowering millennials and bridging the generation gap between millennials and other generations for a shared goal of global unity and empowerment via a new age experience-based model, called, "New 3".
Ms. Kim is a Korean- American entertainment attorney based in New York City proper and Metro Atlanta. Her legal focus spans on a number of concentrations including entertainment, business and intellectual property. Her legal approach, however, is mainly general counsel where she is most fulfilled working with entertainers, small businesses, startups and entrepreneurial women and millennials.
As a Korean-American woman with immigrant roots in an entrepreneurial household, Ms. Kim is no stranger to bootstrapping. Upon her arrival to the US and living in one of the nation's largest cities, Ms. Kim witnessed her parents start a new life from the bottom up by way of entrepreneurship and often references her mother as her inspiration to build her own business empire. She often reflects to her childhood memories of sweeping the hair from her mother's hair salon at the ripe age of four. Needless to say, the avid woman and millennial empowerment speaker acquired her business mind from working alongside her mother. While developing her professional career as a millennial woman entrepreneur, her organic connection and objective to uplift and support millennials with emphasis on four (4) global millennial citizens: 1) In college/ recent college graduates; 2) Young professionals; 3) Millennial Women; 4) Hip, sexy millennial mom and dads, progressed to the forefront of her skills, using her voice as a tool of advocacy for woman and millennial issues on a global scale. The forefront of her goals are to assist in women and millennial business development while protecting their voice, message, brand and platform by providing business advisory in order to make decisions that align with their needs, purpose and end goal.
The savvy attorney also serves as a board member to a number of initiatives. Most recently, she was personally recommended by the Atlanta City Council president, Ceasar Mitchell, to join the Global Advisory Panel Committee of Atlanta Regional Commission, whose initiative is focused on providing a global platform to discuss valuable key issues that affect Millennials, Atlanta's fastest growing population. In addition, Ms. Kim continues to serve as an Advisory Board Member to the National Black and Latino Council, Alliance of Women Directors Atlanta Chapter, Beverly Cunningham Outreach Program and the Strong Movement. She has also been serving as a camp CEO member to Girl Scouts of Greater Atlanta since 2015 offering career and life purpose mentoring to the graduating high school seniors transitioning to college. Formerly, Ms. Kim has served on the board of the U.S. Pan-Asian American Chamber of Commerce South East chapter as the Chair of Community Relations. She has also served as the former Director of Community Relations for the Next Big Thing Movement. To add to her index of accomplishments, the attorney turned public speaker has provided pro bono legal services for Microsoft and A-list actress Angelina Jolie's KIND (Kids In Need of Defense) Organization – a non-profit group advocating for immigrant children that arrive in this country escaping gang violence, political oppression, human and sex trafficking.
Along with speaking on a number of prestigious platforms, Ms. Kim recently gave a speech at the GA State Capitol on the topic of global unity addressing the Women's March movement as well as speaking at Sung Shin Women's University in South Korea about global millennials' sisterhood. In addition, Ms. Kim recently gave a keynote speech at the Atlanta City Council's Back to Business, Back to School conference for entrepreneurs in the restaurant industry and promoted her Eat Fresh B Fresh campaign connecting the four C's: Cuisine, Culture, Connection and Celebration. She is scheduled to represent Millennials Chamber of Commerce at the 2017 Back to School Back to Business conference. Ms. Kim also served as a speaker for the American Bar Association's International Legal Symposium on the World of Music, Film, Television and Sports as a panel speaker discussing Intellectual Property and Content Related Issues in the Millennial Era and on a webinar panel discussion on the impact of social media and the U.S. presidential campaign. Ms. Kim is scheduled to return and speak again at the American Bar Associations' International Symposium on the World of Music, Film, Television and Sports for the third time at the end of March 2017. In addition, Ms. Kim served as a guest speaker at the 100 Female Entrepreneur's Business League on the importance of trademark protection and brand development and how it relates to government contracting procurement opportunities for women owned business owners. She has served as a session leader for Operation Hope's Global Forum 2016 for the Minority and Women owned business panel discussion. She has also presented and spoke at the Christian Cultural Center's Women's Health Empowerment Initiative in Brooklyn, New York. Most notably, Ms. Kim was the only non-African American to speak at Georgia State University on the 2016 State of the Black Union panel addressing the crucial racial, socioeconomic and political climate amongst millennials. Ms. Kim is scheduled to give a key note speech at the International Women of H.O.P.E.'s 6th annual Gala in March 2017, as well as present at the Vine City Earth Day Festival in April 2017 representing the Millennials Chamber of Commerce, also known as MC2 amongst millennials. MC2 has partnered with the Peace Day Party, a non-profit organization in NYC to host the International Day of Peace celebration in NYC in September 2017, working closely with the U.N. Millennials Chamber of Commerce, in partnership with the Peace Day Part of New York City, plans to host an International Environmental and Peace Day with the central theme, "Respect for All" in June 2017 in Atlanta to kick off the International Day of Peace in NYC. MC2 has also partnered with Clark University's Financial Literacy Program, working alongside the Federal Reserve Bank in the Fall of 2017.
When Ms. Kim is not speaking to issues such as women's and millennials' empowerment and paving a way to make necessary social shifts, she emcee's events supporting culture sharing like Metro Atlanta Community Forum on Health Disparities and Social Justice Issues, Latino Fashion Week at the Atlanta City Hall, Gwinnett and Dekalb county's multi-cultural festivals and Culture Connect's Holiday Celebration and writing. She has authored, two books, Holistic Fabulosity: Recruiting One Super-Shero at a Time for Our Urgent Revolution and Fly Yellow Bird, a children's book about global unity and love which discusses identity, gender roles, immigration, self-esteem, racism, family values and cultural expectations. Holistic Fabulosity is scheduled to be published in the summer of 2017 and Fly Yellow Bird is scheduled to be published early 2018.
Ms. Kim is a New Yorker at heart and hustle and bustle is coded within her psyche! While studying for the New York State Bar exam, she studied Executive, Transition and Life Purpose Coaching at the International Professional Excellence in Coaching, the largest coaching institution in the world. In addition, while studying law, Ms. Kim became a licensed yoga and Zumba instructor and a National Academy of Sports Medicine ("NASM") certified personal trainer. Serving as a co-emcee for the U.N. endorsed international yoga day celebration hosted by the Consulate General of India Atlanta, the NYC and Atlanta based attorney also had the honor to emcee the pre-welcome reception for the 31st annual US Pan Asian-American Chamber of Commerce National Conference at the Coca Cola headquarters in Atlanta where she teaches early morning yoga class for the employees.
Ms. Kim would like to be remembered as a pioneer seeking to unite people of all cultural backgrounds to embrace and celebrate the colorful variations of diversity and gifts we share. Her life's passion is to cultivate a mindful, global culture that maximizes individual, global, intellectual ethnic, gender and generational diversity to further support and advance humanity's common pursuit of health and prosperity while respecting, honoring and appreciating others and their truths.