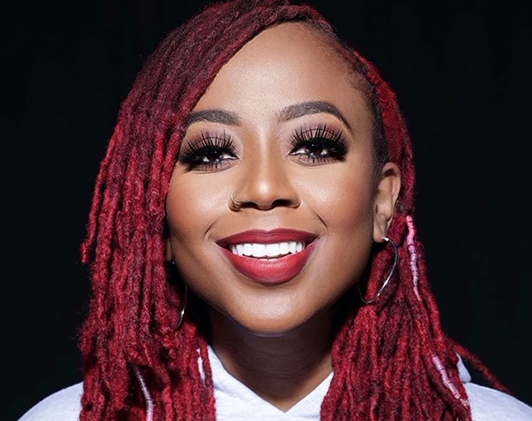 Pinky Cole
Founder & Visionary, Slutty Vegan
---
A trifecta of community, commerce and compassion, Pinky Cole is  a  serial  entrepreneur, brand strategist and founder & visionary of Bar  Vegan,  Slutty  Vegan  –  a  nationally acclaimed, Atlanta-based burger joint offering creative takes on plant-based burgers  with names like Sloppy Toppy, Fussy Hussy and One Night Stand – and The  Pinky  Cole Foundation. Born and raised in East Baltimore, Cole started her entrepreneurial journey early through creating business  plans  and  side-hustles  with  friends and family members during high school. She moved to Atlanta to attend Clark Atlanta University, and while she quickly became enamored with the city, she decided to pursue  acting  in  Los  Angeles  upon graduation and later worked as a successful television producer in New York City and Connecticut.
She eventually made her first foray into the culinary world with her popular restaurant, Pinky's Jamaican and American Restaurant, in New York, which tragically burned down. Pinky relocated to Atlanta and came up with Slutty Vegan during a late-night craving for mouthwatering vegan fast food in Atlanta. From there, she started cooking vegan burgers in a shared kitchen in August 2018, and the Slutty Vegan empire was born. The wildly popular, game-changing concept has not slowed down since opening. Known for its standard two-hour line to pick up made-to-order food, the company's revenues grew to $4 million within the first six months of its grand opening. Today, customers can break free from kale and quinoa salads and enjoy Slutty Vegan from its "Big 'Ol Slut" food truck in neighborhoods across Metro Atlanta and at brick-and-mortar locations, in Jonesboro, Georgia and Atlanta's West End and Edgewood neighborhoods.
Defying the odds is in Pinky's DNA. The daughter of Jamaican immigrants, Cole learned the value of hard work, serving the community and giving back from her mother, who worked four jobs to support their family and her father. Although he was sentenced to Federal Prison the  day she was born, Cole's father provided business strategy guidance that's instilled in her today from behind bars. One of his greatest lessons was to create your own opportunity.
Cole does just that, pouring all her love, experience and talent into a recipe for success. While restaurants are closing, Slutty Vegan has opened two locations with socially distanced lines down the block. While record numbers of people are unemployed, Slutty Vegan is providing sustainable employment. Though, Cole's impact does not stop there. In May 2019, Pinky established The Pinky Cole Foundation. In partnership with another philanthropist, she has paid rent for struggling local businesses, paid the tuition of 30 Clark Atlanta University students, purchased a car and life insurance for the family of Rayshard Brooks who was murdered by a police officer in spring 2020 and more. Most recently, Cole teamed up with Derrick Hayes of Big Dave's Cheesesteaks to spearhead the Square 1: The Liife Experience, a program with an initiative to provide life insurance policies by December 2023 to 25,000 Black men to support their health and generate generational wealth in  the  black community.
Cole has been recognized by prestigious organizations all  over  the U.S., including being named to Restaurant Hospitality's 2021 Power List, Forbes Next 1000,  Entrepreneur Magazine's Top 100 Powerful Women in Business List, LA Wire Influential Women of 2020 and most  recently,  Atlanta  Business  Chronicle's  40  Under 40 List and PETA's 2021 Most Beautiful Vegan Celebrities List.