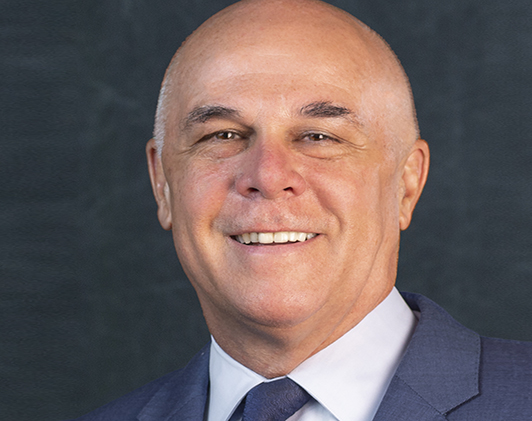 Patrick Geraghty
President and CEO, GuideWell Mutual Holding Corporation
---
Pat Geraghty is President and Chief Executive Officer of GuideWell Mutual Holding Corporation, a $19 billion, not-for-profit health solutions organization headquartered in Jacksonville, Fla.
GuideWell is the parent to a family of forward-thinking companies focused on transforming health care. It comprises Florida Blue, the leading health insurance company in Florida; GuideWell Connect, a consumer engagement and marketing firm; GuideWell Health, a health care delivery company; GuideWell Source, a provider of administrative services to federal and state health care programs, including Medicare; and PopHealthCare, a population health management company. GuideWell serves 16 million people across 29 states, including more than 5 million individuals in Florida.
Geraghty was the architect of the strategic restructuring that created GuideWell from the foundation of a 70+ year old health insurance company, transforming it into a health solutions organization at the forefront of reimagining the future of health in America. The GuideWell restructuring is considered a model of strategic reinvention and is featured as a capstone business case in the curriculum of Harvard Business School.
A dynamic speaker, Geraghty is considered an expert voice on a range of health care topics including health care reform in the U.S., next-generation payment strategies, innovation in health care and the benefits of wellness and prevention programming.
He has appeared on NBC's "Meet the Press," "Fox Business News," CNBC's "Closing Bell," The Wall Street Journal's "Money Beat," "PBS Nightly Business Report," MSNBC's "Morning Joe" and Bloomberg TV's "Street Smart" and "Capitol Gains" programs. Geraghty also has been featured on the front page of The New York Times' Business Day, in The Wall Street Journal, and in many other media outlets.
In addition to serving as an expert source to leading news media, Geraghty is frequently sought after for his insights on important health care policy matters in Washington, D.C. and Tallahassee, Fla.
Geraghty is active in leading professional and community organizations. He is immediate past chair of the Florida Council of 100, a private, non-profit, non-partisan organization of Florida business leaders who advise the state's governor on how to improve the economic growth of the state and the economic well-being of its residents. He also serves as a member of the board of the National Institute of Health Care Management (NIHCM), a non-profit organization dedicated to improving the effectiveness, efficiency and quality of America's health care system.
Additionally, Geraghty serves on the boards of Pardee Rand Graduate School, America's Health Insurance Plans (AHIP) and Tampa Electric Co. (TECO).
In 2016 Geraghty became a member of the Health Governors Community of the World Economic Forum, the international organization for public private cooperation, and a trustee for its Global Challenge Initiative on The Future of Health.
Geraghty holds a Bachelor of Arts degree from Colgate University and a Doctor of Humane Letters, honoris causa, degree from Florida Southern College. He also has completed executive education programs at Harvard University School of Public Health and the Wharton School at the University of Pennsylvania.