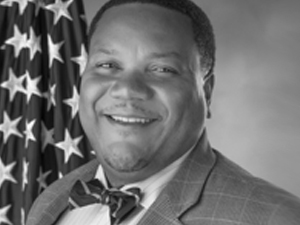 J. Jioni Palmer
Associate Commissioner, Social Security Administration
---
Jioni Palmer was appointed to the Social Security Administration as the Associate Commissioner in the Office of External Affairs in March 2015. He is the former Acting Chief Policy Officer for the Pension Benefit Guaranty Corporation (PBGC). Prior to joining PBGC, Mr. Palmer was Communications Director for the Congressional Black Caucus where he was responsible for developing and implementing a proactive national communications strategy to raise the profile of the 42 member caucus, which included the House Majority Whip, four full committee chairs and 18 sub-committee chairs.
Immediately prior, Mr. Palmer served as National Press Secretary at Media Matters for America where he helped coordinate a multi-pronged rapid response media relations, external affairs and online advocacy operations with nationwide reach. Previously, Mr. Palmer served as press secretary for the Ways and Means Committee of the U.S. House of Representatives overseeing communications strategy involving multiple policy areas including tax, health, and social services.
Before March 2007, he was a reporter with Newsday, where he started as a summer intern in 1999 and subsequently covered the various levels of government and politics in New York. Joining the Washington bureau in September 2004 as Newsday's Congressional Correspondent, he began reporting on the daily activities on Capitol Hill, focusing on the New York delegation. He was awarded a Newsday Publisher's Award for his coverage of Hurricane Katrina and the subsequent rebuilding of New Orleans.
Mr. Palmer is a graduate of the University of California at Los Angeles where he majored in African American Studies.