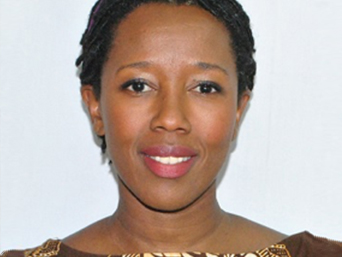 Nuru Mugambi, FKIB
Director, Kenya Bankers Association
---
Nuru has contributed to the shaping of the banking industry's agenda. As a director with the Kenya Bankers Association who has also served as Acting Chief Executive Officer, she has spearheaded several strategic initiatives aimed at reinforcing the industry's role of being a core driver of Kenya's economic development. Her contributions towards policy formulation have led the banking industry towards adopting numerous progressive practices, particularly in the area of Sustainable Finance, and Consumer Protection. According to the Dutch and German development banks, the Sustainable Finance Initiative that Nuru champions leads in Africa in terms of industrywide capacity building. Nuru is currently leading the Kenya Green Bond Program which will establish a green finance market and issue the country's first green bond.
In 2015 she became the youngest female to earn the Fellow of the Kenya Institute of Bankers (FKIB) designation for industry excellence and leadership. She was recognized in 2016 by the Eisenhower Fellowships program and U.S. President Barack Obama as an emerging African leader. 
Nuru is Founding Member of the Kenya Chapter of Graça Machel's New Faces/New Voices (NFNV) pan African network that advocates for womens' economic empowerment. For NFNV, she champions board diversity in partnership with the Nairobi Securities Exchange. She also serves on the statutory Judiciary Committee on Alternative Dispute Resolution, and is a community advocate as part of the Kilimani Project Foundation.
She graduated with honours in Business Administration from Kennesaw State University (Ga.); and has an Executive MBA degree in Strategy from Georgia State University, Atlanta.