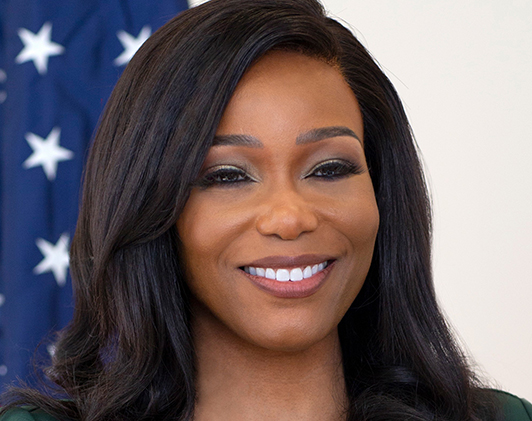 Nikita Pearson
Director of the Office of Minority and Women Inclusion (OMWI), FDIC
---
Nikita is Director of the FDIC's Office of Minority and Women Inclusion (OMWI).  She is responsible for:
promoting diversity, equity, and inclusion among the FDIC's 6,000 employees;
assessing diversity policies and practices of approximately 3,200 banks supervised by the FDIC; and
increasing participation of minority-owned and women-owned businesses in the FDIC's multi-billion dollar operations.
Last year, she testified before the U.S. House Financial Services Diversity and Inclusion Subcommittee to discuss the agency's efforts to enhance diversity and inclusion in the FDIC's workforce and contracting, and to promote financial inclusion.  Nikita was also appointed co-Chair of the Economic Development Cluster for the White House Initiative on Historically Black College and Universities.
Nikita serves on several of the FDIC's executive committees, including the FDIC Board's Audit Committee, Chair of the Diversity and Inclusion Executive Advisory Council, and Chair of the Executive Task Force to promote diversity within the bank examiner workforce.  Previously, she served as co-Chair of the Executive Steering Committee for Entry Level Bank Examiner Hiring and voting member of the council that advises the Chief Information Officer. 
Prior to leading OMWI, 22 years of Nikita's career focused on bank supervision.  Nikita began her career at the FDIC in 1998 as a bank examiner in what is now known as the Division of Risk Management Supervision.  Since that time, she has held progressively more responsible positions in three of the FDIC's six regions, including Case Manager, acting Supervisory Examiner, and Assistant Regional Director.  In 2015, she joined the Division of Depositor and Consumer Protection in Washington, D.C. as Deputy Director for Administrative Management, Operations, and Budget.
Nikita holds a Bachelor of Business Administration in Accounting from Savannah State University, Savannah, Georgia, where she graduated magna cum laude.  She is also a completed the Graduate School of Banking at Louisiana State University, Baton Rouge, Louisiana, and the Senior Managers in Government Program at Harvard University, Cambridge, Massachusetts.