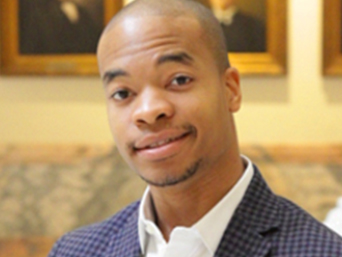 Nicholas Black
CEO America's IT Doctors, Millennials Chamber of Commerce
---
Nicholas Black is the Founder and CEO of America's IT Doctors, a technology consulting company based in the Greater Atlanta area which focuses on four (4) core areas: Cloud, Security, Connectivity and Support. Mr. Black prides himself in developing a one of a kind technology solution that is custom tailored specifically to fit each client's company needs. Mr. Black also serves on the board of the Millennials Chamber of Commerce, also known as MC2, a benefit organization dedicated to engaging, educating and empowering millennials and bridging the generation gap between millennials and other generations for a shared goal of global unity and empowerment via a new age experience-based model, called, "New 3″.
Mr. Black's love and passion for technology and entrepreneurship stemmed early on since his childhood. At the tender age of six year old, Mr. Black learned to use his very first computer and later at the age of eight, he fixed his very first computer. While attending high school, Mr. Black founded an innovative computer technology focused organization called, "Club Logic," whose mission was to empower youths though sharing ideas and offering valuable education regarding computer security and digital media which was not often offered in a traditional school setting. His avid interest in learning about advanced technology and new innovations caught many people's attention, including his Computer Technology teacher who highly recommended Mr. Black to enroll in Cisco level I and level II training which was traditionally offered to college graduates in preparation for Cisco CCNA certification. After high school, Mr. Black attended Georgia Gwinnett College where he majored in Information Systems and Security. Being especially interested in the intricacies in how technology plays a key role in today's business, including the operations of the city based organization, Mr. Black landed a position working for the City of Sandy Springs in their I.T. Department which covered systems for Fire, Police, Courts and other various extensions of the local city government. After working with the City of Sandy Springs and gaining valuable technology and operations knowledge, Mr. Black started his own IT consulting company, America's IT Doctors.
When Mr. Black is not busy leading Americas IT Doctors to become a household name in the global IT industry and serving as the board member for the Millennials Chamber of Commerce, he is busy studying for his Ethical Hacker Certification and actively researching advancements in Bit Coin and Block Chaining also known as C.B.C. Mr. Black is convinced that C.B.C. is the "economy of the future" and he is determined to be in the forefront of this innovation – a world without cash and replaced with digital currency. Mr. Black frequently serves as a guest speaker at various technology forums such as Channel Directions Live and AlterConf, platforms for discussing Millennials in I.T. and the challenges they face in business and the industry as a whole. Mr. Black also serves as a member of an IT cloud services peer group called, "Super 9". A true believer in giving back to the community, Mr. Black volunteers his time year after year with Biz4Youth, an organization focused on teaching young students ages 8-17 about entrepreneurship including startups, digital marketing, fund management and SWOT analysis. Mr. Black is committed to serving as a leader for redefining entrepreneurship and developing innovative ways to utilize technology and new inventions to further global economic enhancement.