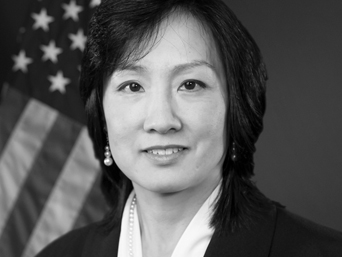 The Honorable Michelle Michelle K. Lee
Under Secretary of Commerce for Intellectual Property and Director of the United States Patent and Trademark Office
---
As Under Secretary of Commerce for Intellectual Property and Director of the United States Patent and Trademark Office, Michelle K. Lee provides leadership and oversight to one of the largest intellectual property offices in the world, with over 12,000 employees and an annual budget of over $3 billion.
Ms. Lee also serves as the principal advisor to the President, through the Secretary of Commerce, on domestic and international intellectual property policy matters. Through working to strengthen the intellectual property systems—including patents, trademarks, copyrights, and trade secrets—she helps promote innovation and economic growth. Ms. Lee also drives international intellectual property harmonization efforts, which support the administration's top priorities to increase both trade and economic growth.
Ms. Lee is the first woman to serve as Director of the U.S. Patent and Trademark Office in the country's 225+ year history. Prior to her current role, she served as Deputy Director, and before that as the first Director of the USPTO's Silicon Valley Regional Office.
Ms. Lee has spent most of her professional career advising some of the country's most innovative companies on technical, legal, and business matters. Prior to joining the USPTO, she was Deputy General Counsel for Google and the company's first Head of Patents and Patent Strategy. She joined the company when it was relatively young, and was responsible for formulating and implementing its worldwide patent strategy, including building its patent portfolio from a small handful of patents to over 10,500 assets in eight years.
She also served as a partner at the Silicon Valley-based law firm of Fenwick & West LLP, where she specialized in advising a wide range of high-technology clients from startups to Fortune 100 companies on technology licensing, intellectual property, litigation, and corporate matters.
Prior to her career as a legal advisor to technology companies, Ms. Lee worked in the federal judiciary as a law clerk for the Honorable Vaughn R. Walker on the U.S. District Court for the Northern District of California and the Honorable Paul R. Michel on the U.S. Court of Appeals for the Federal Circuit.
Before building her legal career, Ms. Lee worked as a computer scientist at Hewlett-Packard Research Laboratories, as well as at the Massachusetts Institute of Technology (M.I.T.) Artificial Intelligence Laboratory. She holds a B.S. and an M.S. in electrical engineering and computer science from M.I.T., as well as a J.D. from Stanford Law School.
Ms. Lee has been recognized by numerous organizations for her work including by Politico Magazine as one of the "Top 50 Most Influential Visionaries in American Public Policy" in 2015, by Washingtonian Magazine as a "Tech Titan" in 2015, and by the San Francisco Business Times and San Jose Business Journal as the Best Bay Area IP Lawyer in 2012 and one of the top 100 most influential women in the Silicon Valley in 2013.