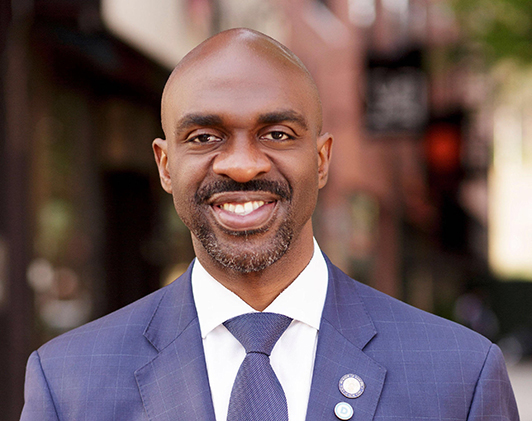 Michael Blake
New York State Assembly Member
---
New York State Assembly Member Michael Alexander Blake was born and raised in The Bronx, New York and is a son of Jamaican immigrants. His mother is a retired 40 year manufacturer and his late Father was an 1199SEIU maintenance supervisor at St. Barnabas Hospital in The Bronx.
Michael is a third term Assembly Member in the New York State Assembly representing the 79th District in The Bronx, New York. Blake has helped lead the efforts to create the first and only statewide My Brother's Keeper education program in the country, now totaling more $56 million in three years. Moreover, Blake helped lead the charge to Raise The Age of criminal responsibility so that 16 and 17 year olds are not tried as adults in criminal court, increase funding for New York City public housing, continue to fund Diversity in Medicine medical scholarships and had his signature piece of legislation signed into law for Small, Minority and Women owned Business Enterprises with less than 300 employees who contract with New York state get paid in 15 days instead of 30.
Blake is also a Vice Chair at Large of the Democratic National Committee helping lead efforts in engaging with millennials, communities of color, local elected candidates and training. Blake has traveled to 31 states and to Japan since the DNC election in February 2017 ranging from candidate trainings to mobilizing base communities across the country.
Blake is a Five Year Term Member fellow of the Council on Foreign Relations and an Aspen Institute Rodel Fellow. Michael is a national Honorary Co-Chair of the New Leaders Council, which has trained more than 7,000 millennials in progressive policies and political organizing. He is a licensed minister in the United Methodist Church and African Methodist Episcopal church. Michael is on the board for iVOTE, served as a 2016 Resident fellow at the Harvard University Institute of Politics and recently was an advisory board member for the My Brother's Keeper Alliance. Michael is a proud alum of the Medill School of Journalism at Northwestern University.
In early 2007, Michael joined then Sen. Barack Obama's campaign as the Iowa Deputy Political Director and Constituency Outreach Director. In his 20-month campaign tenure, Blake concluded as the Michigan Deputy State Director for the general election. After the election, Blake joined the White House staff as the Associate Director of Public Engagement and Deputy Associate Director of the Office of Intergovernmental Affairs coordinating outreach to the African American, Minority and Women Business Enterprises and state and county elected official communities. Blake left the White House to serve as the national deputy director of Operation Vote for President Obama's 2012 re-election and helped expand the diverse electorate that later re-elected the president, leading to historic turnout among constituencies nationwide.