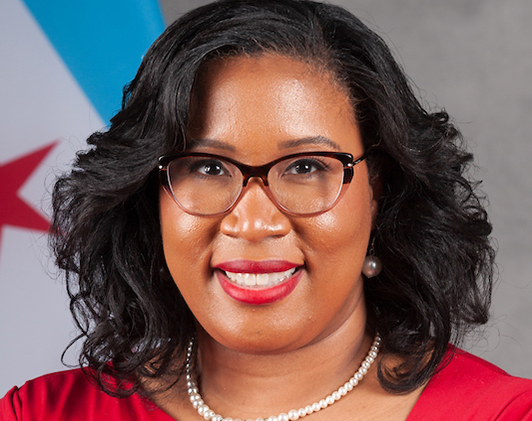 Hon. Melissa Conyears-Ervin
City Treasurer, City of Chicago
---
Melissa Conyears-Ervin is the current Treasurer of the City of Chicago. In 2019, she made history by being the first person elected to the Office of Treasurer for the City of Chicago who was not previously appointed.
She is a former State Representative for the 10th District who believes in the promise of opportunity and the strength of families to effectively address the needs of our communities.
Before being elected as a State Representative, she gained more than 15-years of experience in the insurance industry as an executive for Allstate and CS Insurance Strategies, gaining insight into the challenges in the diverse and vibrant City of Chicago.
As City Treasurer, she is the only city-wide elected official sitting on all four pension boards and has utilized her private-sector and financial experience to increase economic development in Chicago's
neighborhoods by raising awareness of systemic issues that result in racial inequities. Under her co-leadership, the Advancing Equity in Banking Commission (AEBC) was formed, in collaboration with
Illinois State Treasurer Michael Frerichs, to advance equity and eliminate systemic racism in the banking industry through equitable hiring, lending, and investment in Black communities. She believes that Chicago's $9.5 billion-dollar portfolio should be leveraged to help Chicago communities grow at the same economic rate, regardless of their zip code.
The Treasurer lives in Garfield Park with her husband Jason and daughter Jeneva. She is a proud member of Sigma Gamma Rho Sorority, Inc.