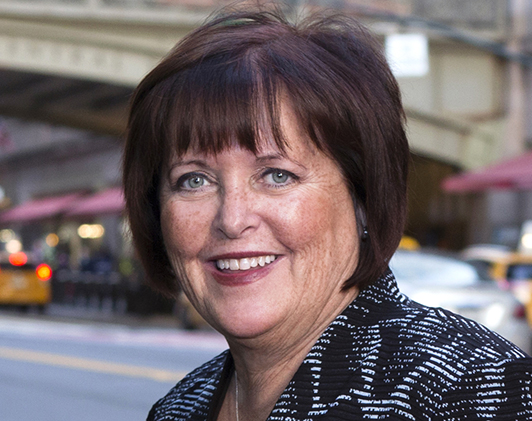 Margaret Keane
Chief Executive Officer, Synchrony
---
Margaret Keane is Chief Executive Officer and a member of the Board of Directors of Synchrony, one of the nation's premier consumer financial services companies. She led the company's successful initial public offering in 2014 and separation from GE in 2015.
With Synchrony, Margaret set out to build a very different kind of financial services company. Through her leadership and vision, she has created a culture of caring, inclusion and innovation at every level, while balancing the needs of all stakeholders—partners, customers, communities, shareholders and more than 17,000 Synchrony employees. She is instrumental in accelerating Synchrony's growth and diversification across all of its platforms.
Margaret's passion for emerging technology, innovation and employee development has solidified her reputation as a top leader in financial services. She has been recognized as one of Fortune's "Most Powerful Women" for the past five years and American Banker's "Top 25 Most Powerful Women in Finance" for the past 13 years. Fortune also named Margaret to their "Businessperson of the Year" list in 2016 and 2019.
Prior to Synchrony's founding, Margaret had an 18-year career with GE Capital, where she led the retail card platform as President and CEO. She later expanded her responsibilities to become President and CEO of the GE Capital North American retail finance business. Earlier, she held leadership roles spanning consumer finance, vendor financial services, operations and quality. Margaret spent the first 16 years of her career at Citibank in various leadership roles.
Margaret is dedicated to giving back to the community. As President of the Synchrony Foundation, Margaret developed Synchrony's citizenship platform, Families That Work, providing support to nonprofits that help low- and moderate-income working families move their lives forward. She also serves on the board and is passionately committed to the work of buildOn, a nonprofit dedicated to empowering urban youth to break the cycle of poverty, illiteracy and low expectations.
Margaret serves on the Allstate Corporation Board of Directors and the Memorial Sloan Kettering Cancer Center's Boards of Overseers and Patient Care Committee. She is also a member of the Business Roundtable, an association of chief executive officers of America's leading companies working to promote a thriving U.S. economy and expanded opportunity for all Americans through sound public policy.
Margaret earned a bachelor's degree and an MBA from St. John's University and is a member of the St. John's University Board of Trustees. She is married with two children.