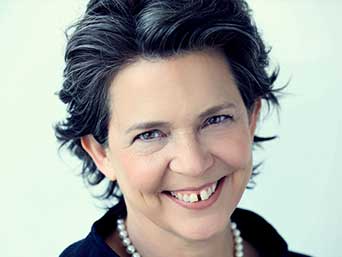 Madonna Badger
Chief Creative Officer / Founder, Badger & Winters

---
Madonna Badger is the Founder and Chief Creative Officer at Badger & Winters, an advertising, branding and design agency that was named a 2016 Advertising Age Small Agency Award winner. Badger & Winters specializes in building brand love with women and has worked with brands like Avon, Chanel, CoverGirl, Diane von Fürstenberg, Godiva, Nordstrom, Pepsi, P&G, and Vera Wang. The agency has produced work for over 40 countries in 27 languages. Prior to founding the agency, Madonna was at Calvin Klein, where she created the Mark Wahlberg and Kate Moss campaigns and launched CK One. In 2009 she partnered with Jim Winters, who led marketing at Vogue and is an expert in women's brands.
Madonna, who was most recently named one of Ad Age's Women to Watch in 2016, has been featured in Vogue and WWD, named one of Daily Variety's The Gotham 50, Crain's Forty under Forty and one of Glamour's Women Who Took Big Risks – And Reaped Big Rewards. In January 2016 Madonna announced that she and the agency would no longer create imagery that objectifies women through the #WomenNotObjects campaign, which was awarded the 2016 #Femvertising Award for Social Impact, shortlisted for three 2016 Cannes Lions, and named as a finalist for Fast Company's 2017 World Changing Ideas in the Advertising Category.
Due to this commitment and her advocacy, Madonna has been tapped as a thought leader to speak at many engagements on gender equality and the harm that the objectification of women in advertising has on society, as well as business. In the past year a few of her engagements have included: the main stage keynote address at Cannes Lions titled "Sex, Lies and Advertising"; the Clinton Global Initiative panel "Tackling Gender Bias in the Media Through the Power of Advertising"; the panel at P&G's International Women's Day event titled "Gender Bias in Advertising"; and keynotes at the 2016 5th Annual 3% Conference, eurobest, and at Google's Women@NY Summit on International Women's Day. Madonna has also been named the See It Be It Ambassador for Cannes Lions 2017 and will lead the mentorship program.