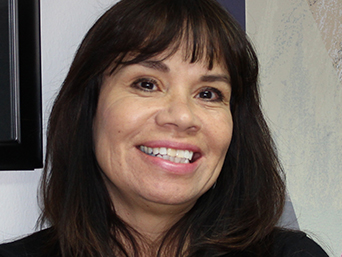 Lori Pourier
President, First Peoples Fund
---
Lori Pourier, (Oglala Lakota) President, First Peoples Fund, an enrolled member of the Oglala Lakota Nation in southwestern South Dakota, has served as the President of First Peoples Fund since 1999. She has nearly 30 years of experience in community economic development with a specific emphasis on native arts and culture revitalization within tribal communities.

Between, 1994 and 1998, Ms. Pourier served as the Executive Director of the Indigenous Women's Network (IWN), a U.S. based nongovernmental organization. While at IWN she was responsible for fundraising, operations and the political action work of the organization. She represented IWN at numerous international conferences at the United Nations as well as the Fourth World Conference on Women in Beijing, China. During her tenure at IWN, Ms. Pourier established a leadership program placing young emerging leaders in non-profit organizations throughout Indian Country and within regional and national foundations.
Ms. Pourier served on several boards; Grantmakers in the Arts, Native Americans in Philanthropy, Honor the Earth Fund, the Chinook Fund. She was awarded Native American's in Philanthropy's 2013 Louis T. Delgado Distinguished Grantmaker Award in recognition of her work in philanthropy. In addition she was awarded the Women's World Summit Foundation's 2013 Women's in Creativity in Rural Life Award.
She holds a Master of Science degree from New Hampshire College's Graduate School of Business. Nominated by the Ford Foundation, Ms. Pourier was selected for the Center for Social Innovation fellowship at the Stanford Graduate School of Business, a partnership between Stanford University and National Arts Strategies. She is a founding member and partner of the Intercultural Leadership Institute (ILI) with Alternate Roots, National Association of Latino Arts Organizations and the PA'I Foundation.