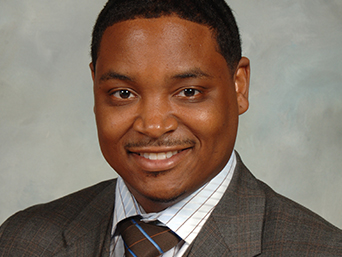 Kevin Tolbert
Assistant Director, Product Intelligence, UAW-Ford National Programs Center
---
Kevin Tolbert was appointed International Representative, July 16, 2006 based upon the recommendation of appointment from Vice-President Jimmy Settles. Currently Kevin is the Assistant Director of Product Intelligence at the UAW-Ford National Programs Center (NPC). Kevin is responsible for leading a team that provides analysis of the Auto industry and helps educate the leadership and membership on future trends and economic conditions.
In his most recent assignment previously as Executive Director of the UAW-Ford National Programs Center, Kevin led the $10 million remodeling of the sixty year old building updating the conference rooms, and modernizing the offices and common workspaces. Kevin also was instrumental in working on the team to acquire the property from the City of Detroit after a delayed negotiations due to bankruptcy in the city. Before Assistant Director of the Digital Media Department he was responsible for improving the communication between our members using Facebook, Twitter, SMS messages, and other mediums. Recently the department re-launched their member communication magazine and renamed it to the UAW-Ford Community Magazine to rave reviews.
Previously he oversaw the negotiations and servicing of the membership at Blue Cross Blue Shield, Blue Care Network, and Health Alliance Plan through the Insurance Department. During the Blue Cross Blue Shield negotiations he lead the negotiations for over 4,000 members who overwhelmingly ratified the contract at 97% rate. Kevin is an elected Democratic Precinct Delegate and active in the 13th Congressional District and has served two terms in the elected leadership team of the Michigan Democratic Party. He is a veteran on many campaigns on the local, state, and federal levels.
Kevin is involved in several community organizations, including serving on the board of Habitat for Humanity Detroit, Detroit Branch of the NAACP, and Detroit City Chess Club. He is a member of the Coalition of Black Trade Unionists, and lifetime member of the NAACP. Kevin is also a former President of the historic Trade Union Leadership Council serving as the youngest President in the organization's 56 years history. Kevin and his wife Karen live in Detroit. He has three sons – Jakhari, Kaiden, & Khalil. Kevin and his family attend Pleasant Grove Baptist Church. Kevin is also a proud graduate of Bates Academy, Cass Technical, and Wayne State University.