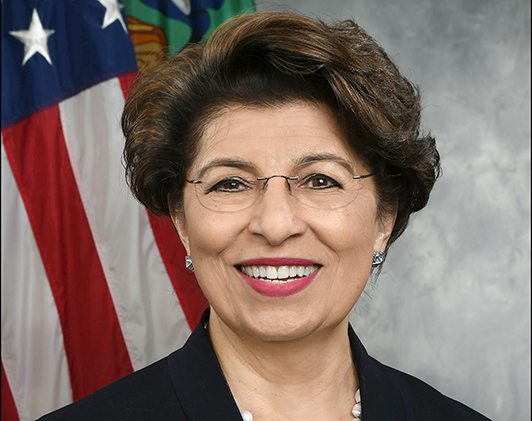 Jovita Carranza
Treasurer of the United States
---
Treasurer of the United States Jovita Carranza serves as a principal advisor to Secretary Mnuchin. Her focus is to increase participation in our vibrant economy by fostering financial capability and sustainability.
Consistent with Treasury's mission to maintain a strong economy, foster economic growth, and promote prosperity and stability, Treasurer Carranza oversees the Office of Consumer Policy. This Office provides policy leadership, research, and analysis in these areas, and coordinates the interagency Financial Literacy and Education Commission on behalf of the Secretary, who serves as its Chair. The Treasurer also serves as the Secretary's designee on the Community Development Financial Institutions Fund's Community Development Advisory Board. In addition to these functions, the Treasurer maintains the historic role of advising the Secretary on matters relating to coinage produced by the U.S. Mint. She has oversight responsibility for all operations of the U.S. Mint, including Fort Knox. She is also a key liaison with the Federal Reserve System.
Treasurer Carranza is a Chicago native and founder of the supply-chain management company JCR Group. She previously served as the Deputy Administrator for the U.S. Small Business Administration (SBA) under President George W. Bush, where she received a bi-partisan, unanimous confirmation by the U.S. Senate. At SBA, she managed more than 80 field offices across the country and a portfolio of direct and guaranteed business loans, venture capital investments, and disaster loans worth almost $80 billion.
Prior to her SBA appointment, Carranza had a distinguished 20+ year career at United Parcel Service (UPS), where she was the highest-ranking Latina in the history of the company. She started as a part-time, night-shift box handler and worked her way up to President of Latin America and Caribbean operations. As Vice President of Air Operations at its facility in Louisville, KY, she led the cutting-edge automated package processing operation.
Treasurer Carranza's prior philanthropic activities include serving on several boards and councils including: the American Cancer Society Corporate Advisory Board; Illinois Enterprise Zone Advisory Board; U.S. Global Leadership Council; U.S. Small Business Administration—Service Corps of Retired Executives (SCORE); and as a Trustee Chair at the School of Business Council at Alverno College.
Treasurer Carranza earned her MBA from the University of Miami in Coral Gables, Florida and received executive, management, and financial training at the INSEAD Business School in Paris, France; Michigan State University; and the University of Chicago.