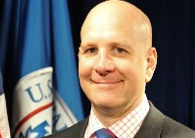 John Rabin
Deputy Assistant Administrator, National Preparedness Directorate, FEMA
---
John Rabin currently serves as the Deputy Assistant Administrator, National Preparedness Directorate (NPD). In this role, he works closely with the Assistant Administrator to oversee six divisions and over 400 personnel that provide the guidance, training, exercises, and programs to prepare the Nation to prevent, protect from, respond to, and recover from all hazards.
From May to October of 2017, Mr. Rabin served as the Acting Regional Administrator of FEMA Region II, where he directed federal emergency management activities for the States of New Jersey and New York, the Commonwealth of Puerto Rico, the Territory of the U.S. Virgin Islands and the Native American Tribal Nations in the Region. During Hurricanes Irma and Maria, he was on the ground in Puerto Rico and the U.S. Virgin Islands, leading the region in complex life safety and life sustaining operations.
Prior to serving as the NPD Deputy Assistant Administrator, Mr. Rabin was the Director of FEMA's National Exercise Division. In this role he was responsible for multiple exercise programs, including the National Exercise Program and the Senior Official Exercise program that examine the preparedness of the United States across the entire homeland security enterprise.
Mr. Rabin also served as the Director of the National Preparedness Assessment Division where he was responsible for measuring how prepared we are as a nation and evaluating the effectiveness of preparedness grants. In this capacity, Mr. Rabin oversaw FEMA's lessons learned and corrective action programs, working to ensure that we incorporate these lessons into plans, policies, and directives.
During incidents, Mr. Rabin has deployed in support of the National Urban Search and Rescue Response System and as the Situational Awareness Section Chief in the National Response Coordination Center.
Prior to joining FEMA, Mr. Rabin served as the Vice President for Strategy at Logicstudio Corporation, a service management software firm, where he created and directed an organization-wide vision that resulted in a four-fold increase in contract and revenue. Previously, Mr. Rabin was the Vice President for Homeland Security at DFI, a consulting firm delivering information services, knowledge management, and solutions to senior decision-makers in the US government. At DFI, Mr. Rabin was responsible for leading policy, strategy, and operational programs in support of the Department of Homeland Security (DHS).
A firefighter and emergency medical technician (EMT), Mr. Rabin is a graduate of the United States Naval Academy and the Executive Leaders Program at the Naval Postgraduate School's Center for Homeland Defense and Security.